A tree planted in 1900 in a school yard in west Cork was felled this week with no public consultation.
The tree, a Monterey Cypress or Macracarpa, was planted on 3 July 1900 by seven-year-old Jeremiah Ó Céilleachair from the townland of Seana Chluain.
The planting marked the opening year of the new school, Scoil Naomh Abán in Baile Bhuirne (on the main Cork-Kerry N22 road).
The tree was there when Patrick Pearse visited Baile Bhuirne in 1904 at the invitation of the local GP and entrepreneur Dr Dónal Ó Loingsigh, who was also the head of the local Conradh na Gaeilge branch.
The tree itself is a very substantial species. It is native to California, but also common now on Fota Island, and it can have a lifespan of 2,000 years.
Its towering stature and substantial overhang offered shelter to many thousands of school children who attended Scoil Naomh Abán in the intervening years.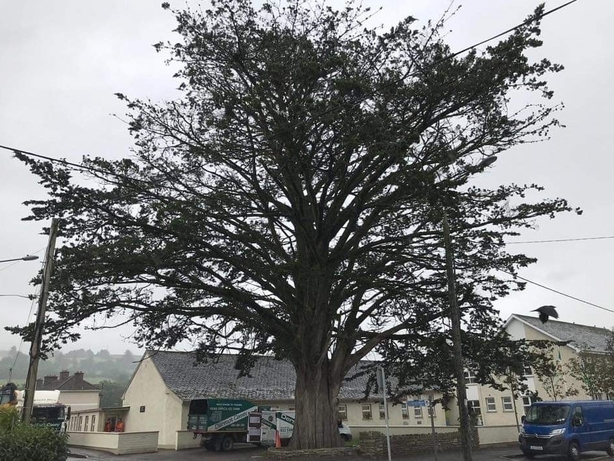 However, a decision was taken by Fr Dónal O'Brien, chairman of the school's board of management, to fell the tree in the interest of safety of the school's pupils, staff and the general public.
He sought independent advice from tree surgeons, who surveyed the tree and reported to Fr O'Brien that it had an unsafe centre.
They said it was somewhat hollowed out and was potentially structurally insecure.
A local heritage group, Dúchas Beo Bhaile Bhuirne, however disputes these assertions.
It said that crosscut sections of the tree, on being felled, displayed a healthy tree with plenty of potential.
Conor Kelleher, grandson of the man who planted the tree in 1900, and also a member of the heritage group, said that some limbing of the tree would have sufficed.
Mr Kelleher said it would have retained the principal structure of the tree for many generations to come.
A significant stump of the tree has been left and talk now has turned to salvaging its remains.