Shannon Airport has reopened several hours after a plane had to be evacuated on the runway causing major disruption.
Flight operations at the airport had been suspended for several hours this morning.
Air traffic controllers noticed a fire and smoke coming from the aircraft's landing gear as it taxied along the runway.
It is understood that the Omni Air International Boeing 767-300 was about to depart for the Middle East when the incident occurred.
Omni Air International is a US charter carrier that specialises in military and government transport flights.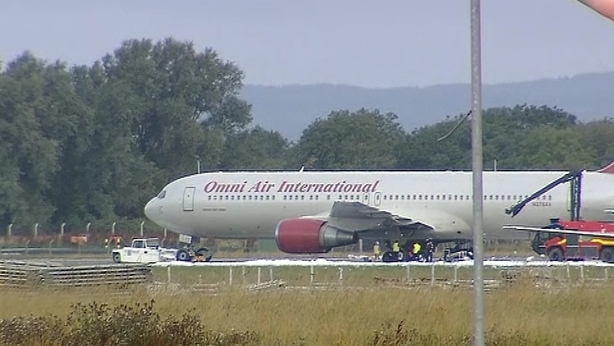 Airport fire crews responded to the incident and extinguished the fire.
The airport said that all 145 passengers and crew had disembarked safely from the plane and were taken to the terminal building.
The plane has been removed from the runway and the airport has reopened.
However, ten arrivals and departures have been cancelled and passengers who intend to travel to or from Shannon today are being advised to contact their airlines.
Shannon Airport Operations Director Niall Maloney said: "The problem with an aborted take-off is you can probably get things like hot brakes and when the aircraft went around again to come back on the apron, a flame was spotted."
⚠️SHANNON AIRPORT NOW OPEN⚠️

The airport is now open.

Flight delays are expected throughout the day.

Passengers are advised to contact their airlines for flight updates.

We would like to thank you for your patience #shannonairport pic.twitter.com/DjQzoh6HJp

— Shannon Airport (@ShannonAirport) August 15, 2019
The Air Accident Investigation Unit said: "An AAIU go-team are responding to an occurrence at Shannon Airport, involving a Boeing 767 aircraft which was evacuated on the runway following a reported fire in a main-wheel well.
"Following consultation with the Shannon Airport Authority, the AAIU has given permission for the aircraft to be removed from the runway."