A 26-year-old man from Blarney in Co Cork has become the first cooper to be appointed by Irish Distillers at its Midleton distillery in Co Cork in 40 years.
Killian O'Mahony trained in Ireland, Scotland, Spain and the United States as part of a six-year apprenticeship.
He is one of a few rather than one of a kind. He is one of only a handful of coopers in the country and is the first in four decades to be appointed at the Jameson Distillery in Midleton in east Cork.
From an early age, Killian knew he wanted to work with his hands, but he never quite appreciated the extent to which his future would be in his hands.
Work for Killian is in one of two cooperages at the Midleton Distillery. He joins two existing coopers there.
The barrels used to mature the Irish Distillers portfolio of whiskeys in Midleton are sourced from the US, where they are used in the production of bourbon, and from Spain, where they are first used as sherry butts.
More than 150,000 empty barrels arrive in Midleton every year. There are always barrels that are leaking or need to be repaired and that's where Killian's job comes in.
Killian's great, great grandfather, Batt Ahern, worked as a blacksmith in Midleton for two decades in the early 1900s. Killian said he sometimes finds the sense of history almost overwhelming.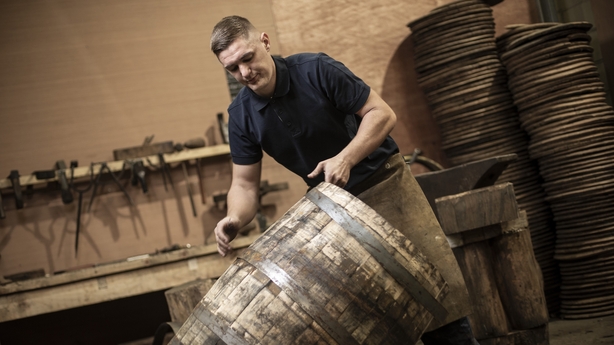 A good whiskey is defined by the barrels in which it matures.
Kevin O'Gorman, who has been Head of Maturation in Midleton for the past ten years, says it takes a great team to produce the best product, and Killian O'Mahony will slot in as part of that.
Next month, Jameson, one of the most recognisable brands in the Irish Distillers portfolio, is likely to record its 30th consecutive year of double-digit global growth.
At any given time, Midleton holds 1.6 million barrels of maturing spirit to satisfy the increasing demand, so there is no shortage of work for Killian.
He says he could never imagine doing anything other than coopering.