The first and only Irish female skipper taking part in one of Europe's most gruelling sailing races, La Solitaire Urgo Le Figaro, is following in the maritime adventures of her formidable ancestor, Grace O'Malley, the famous Pirate Queen born in 1530 in Co Mayo.
Joan Molloy who is from Westport can trace her family ancestry back 17 generations to O'Malley, who sailed from Clew Bay, Co Mayo to London to meet Queen Elizabeth in 1593.
Joan believes the famous female mariner got her inspiration and rebellious spirit on the seas from the beautiful surroundings of Clew Bay, which has also inspired her as a sailor.
Speaking to RTÉ News as she set off from Kinsale this evening, Joan said that O'Malley is in her DNA.
The second leg of La Solitaire began this evening, with 47 skippers from Ireland, France, the UK, Switzerland and Italy sailing more than 500 miles over the next four days across the British Channel to Roscoff in France.
Joan has also christened her yacht 'The Grace O'Malley-Irish Pirate Queen' after securing sponsorship from an Irish whiskey of the same name.
She plans to retrace the famous journey to London in 1593 of O'Malley later this year, and her ultimate goal is to compete in the Vendee Globe, a solo round the world race in 2020.
This is the 50th anniversary of La Solitaire and Kinsale is the most frequently visited port over that time, where the race has stopped 20 times.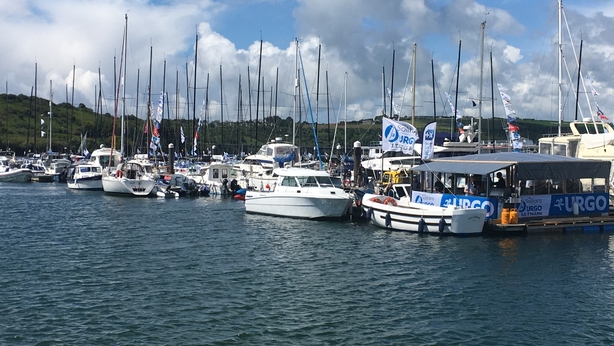 La Solitaire Urgo Le Figaro is regarded as the 'Tour De France of sailing', one of the most difficult solo sailing races in Europe.
Participants travel a gruelling 2,000 miles over four legs stretching over five weeks starting in Nantes in France over to Kinsale and ending in Dieppe.
Another Irish skipper taking part is Tom Dolan from Meath, who is competing in the race for the second time.
He said it is a very tough course with four legs of over 500 miles each, sailing solo with little rest time, and sleep periods of only about 15 minutes at a time. He described it as a real test of endurance.
47 yachts have made their way out of Kinsale harbour this evening, on the second of four legs, of Europe's most gruelling sailing race. And the only Irish female skipper taking part has a connection to the famous pirate queen - Granuaile. pic.twitter.com/xxLJ8BNkT8

— RTÉ News (@rtenews) June 9, 2019
Marcus Hutchinson, who manages the Kinsale stopover part of the race, said the Co Cork port is the most popular stop on the race during its 50-year history.
"It's got excellent sailing infrastructure, it's a wonderful stopover location, and sailors and skippers and all those involved in the wider sailing community just love coming here," he said.
Former round the world sailor Enda O'Coineen, Chair of the organising committee and who was also instrumental in getting the race to Kinsale, said it has always proved a popular stopover. However, it also presented major challenges to sailors as they set off.
"This is real frontier stuff. What they are facing into is exceptionally tough with winds and weather, and while it is also a real adventure it is a test of endurance, speed and skill," he said.