The 50th anniversary of the visit of former president of France Charles de Gaulle to Ireland will be remembered today in Sneem, Co Kerry.
Former senators attached to his government, as well as the French Ambassador to Ireland Stéphane Crouzat, are expected to attend a series of events in the village.
The six-week visit to Ireland came shortly after Mr de Gaulle stepped down as French president and began at the Heron Cove Hotel in Sneem in May 1969.
Shrouded in secrecy, the wartime leader of the Free French Force stayed at the hotel until 23 May when he moved on to Conamara (Connemara), Co Galway, before returning to Co Kerry, this time to Killarney.
The world's media decamped to the Great Southern Hotel in nearby Parknasilla in the hope of catching a glimpse of the former president and his wife Yvonne.
Locals too were desperate for a glimpse.
When columnist Patrick Campbell, who resembled Charles de Gaulle, dropped into a pub in Sneem with then hotel manager - the late Michael Duffy - they were surrounded and asked for autographs, according to Frank Corr, the historian of the Great Southern Hotels, who recalled the event in his book in 1995.
Mr de Gaulle was in Ireland in part to visit the country of his ancestors, but also to begin writing his memoirs.
He came to an agreement with the press for a number of iconic appearances in reflective mode, including a famous beach walk at Derrynane.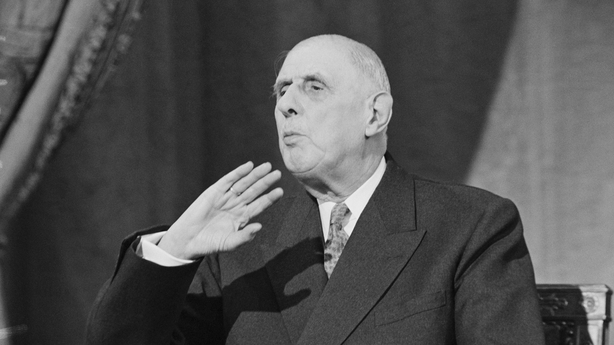 One of the organisers of today's events, Dr Patrick Malone, has said the commemoration will include the laying of a wreath by President of the French Senate, Gérard Larcher, at the de Gaulle monument in Sneem.
60 retired French Gaullist senators will also be in attendance.
"They will follow in the footsteps of de Gaulle by visiting Derrynane House, the home of the Liberator Daniel O'Connell, and Derrynane beach, reprising the famed de Gaulle walk," Dr Malone said.
There will also travel to Parknasilla Hotel in Sneem where a de Gaulle photographic archive is on permanent display.
Mr de Gaulle's visit in 1969 received worldwide attention and yielded significant benefits for the Sneem area and for Conamara in terms of tourism.
On my way to Sneem, co. Kerry, on the footsteps of Général de Gaulle who, 50 years ago, spent 6 weeks in Ireland after his resignation from office in May 1969. There I will meet with a large delegation of French senators of the « Amicale Gaulliste » pic.twitter.com/2wWQUDmKMk

— Stéphane Crouzat (@stephanecrouzat) June 7, 2019