A life-size bronze statue of former US president John F Kennedy has been unveiled in the home of his ancestors in Bruff, Co Limerick.
John Fitzgerald Kennedy's great-grandfather, Thomas Fitzgerald, emigrated from Bruff to Boston in 1852 - like so many others after the devastation of the Great Famine. 
The bible he brought with him was the one used by JFK when he was inaugurated as US President in January 1961.
Thomas's son and JFK's grandfather, John 'Honey' Fitzgerald, who became known as Honey Fitz, went on to become the first Irish Catholic Mayor of Boston.
He served for several terms, beginning the long political legacy of the Fitzgerald and Kennedy families.
Honey Fitz married Mary Ann Hannon, whose parents were also both from Bruff.
Their daughter Rose married Joe Kennedy from New Ross.
They had nine children - of which JFK was the second - and the Kennedy dynasty was born.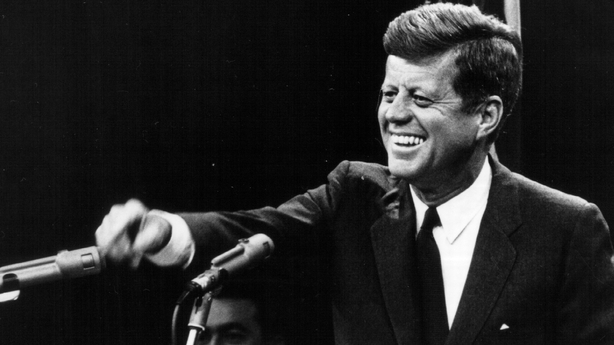 The statue was unveiled this afternoon outside the Thomas Fitzgerald Museum in Bruff, which houses a number of books, pictures and memorabilia from the Fitzgerald and Kennedy families.
The library was visited by JFK's daughter Caroline in 2013, where she acknowledged that there was no greater source of pride in her family than their Irish heritage.
Speaking of her grandmother Rose, she said she was the best politician of them all, and it was no surprise that the child she named after her father John Fitzgerald was the one who grew up to become president.
Bronze statue of JFK unveiled in Bruff ancestral home of his mother Rose. Her grandfather Thomas left in 1852 with the bible used by JFK at his inauguration pic.twitter.com/uuW1t7bWxV

— Cathy Halloran (@HalloranCathy) May 1, 2019
John Nagle, a member of the Bruff Tidy Towns and Heritage Group behind the organisation of the statue, said it will provide a new and imposing landmark in Bruff.
He said it will enhance the visitor potential of the town and the wider Lough Gur area, which has a long and proud connection with JFK and the wider Fitzgerald family.
The statue, designed by renowned sculptor Seamus Connolly and funded by Limerick City and County Council, was unveiled by MEP Mairead McGuinness.
Cousins of the Fitzgerald family who live in the Bruff and Lough Gur area also attended the ceremony.