The mother of a teenage boy who suffered first-degree burns to his face in an attack in Waterford last Thursday night has said she is angry and in shock.
Three teenage boys were injured by a corrosive substance in the attack in the Earls Court estate.
The three were taken to University Hospital Waterford as a result of the incident.
One of them, 17-year-old Tega Agberhiere, has been transferred to Cork University Hospital for treatment at the specialised burns unit there.
He suffered damage to his face and eyes in the attack, but it is hoped because he was wearing contact lenses the damage to his eyes may not be as serious as first believed.
Speaking in Waterford this afternoon, Taoiseach Leo Varadkar condemned the attack.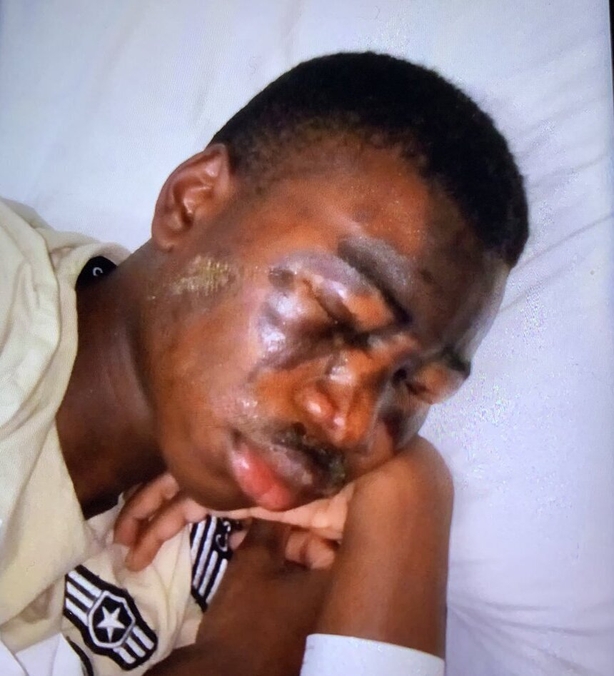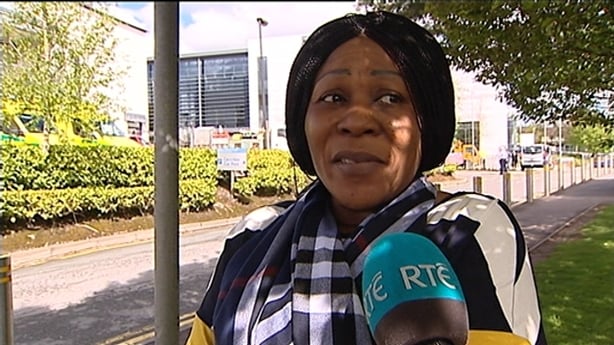 Tega's mother, Christy Agberhiere, said her son should be in school and not receiving medical care. She said the attack had affected the whole community.
Speaking to RTÉ's Morning Ireland, Ms Agberhiere said: "He got first-degree burns on his face. I'm angry, I'm not happy about the whole thing because it shouldn't have happened to anybody.
"It has affected the whole community. It's really shocking, I'm in shock. I'm still in shock. Even an adult, emotionally, you would be damaged.
"As a mother, I have to lift his spirit and make him positive."
She said on the day of the attack her son had attended a grind for his Leaving Cert and a training session for Waterford U17s football team, and later met his friends.
She urged anyone with information to contact gardaí.
We need your consent to load this rte-player contentWe use rte-player to manage extra content that can set cookies on your device and collect data about your activity. Please review their details and accept them to load the content.Manage Preferences
Another of the teenagers, Padraig Sullivan, who was injured in the attack, told RTÉ's News at One that he sustained injuries to both legs and will need skin grafts.
He said he would be back and forth to hospital for treatment of the wounds over the next couple of weeks.
Also speaking on the programme, Padraig's father Mark said it looked like his son had walked through a bonfire when he saw him following the attack.
He said his two legs were burned, one quite badly, in the incident and will need skin grafts on three parts of his leg.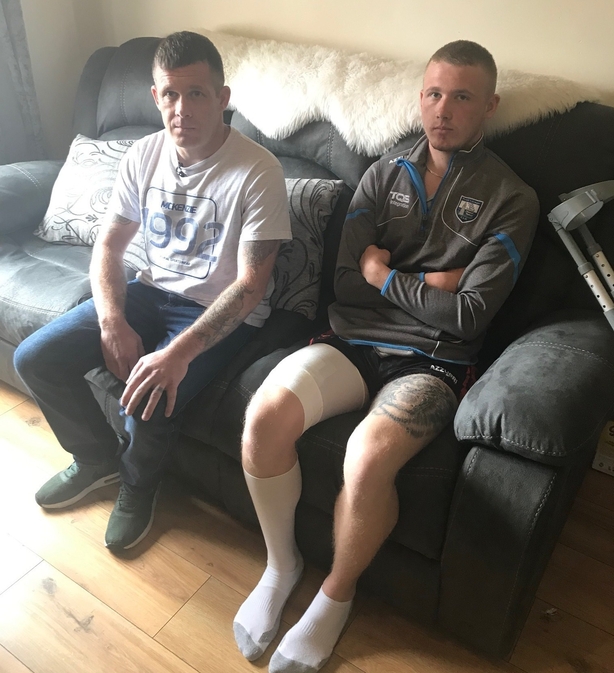 Mr O'Sullivan said they now face a two-week wait before doctors can begin the skin graft work as the nerves and veins in his son's leg have been damaged by the corrosive substance.
He said he was concerned about his son's recovery, and any interruption that it might have on his exams, the apprenticeship that he was hoping to start in July, as well as his hurling career.
Mr Varadkar labelled the attack on the teenagers as terrifying.
"I am really horrified to hear about the acid attack. It's the kind of thing you hear about in other countries. I don't recall it happening any time in Ireland any time recently.
"But you really have to wonder to what kind of poison exists in the mind of somebody who would throw acid on another person, somebody who would try to disfigure somebody. It's terrifying, quite frankly. The people who are responsible will face the full rigours of the law", Mr Varadkar said.
He encouraged anyone with any information about the attack to come forward.
Minister for Justice Charlie Flanagan described the incident as a "scurrilous attack" that is unacceptable in any society.
Four teenagers were detained for questioning on Saturday in relation to the incident and later released without charge.
A file is being prepared for the Director of Public Prosecutions.
Gardai have appealed for any witnesses or anyone with information to contact Waterford Garda Station on 051 305300 or the Garda Confidential Line  on 1800 666 111.
Football chiefs pay tribute to 'gifted footballer Tega'
Republic of Ireland senior boss Mick McCarthy, Under 17 national team manager Colin O'Brien and Under 16 boss Paul Osam have sent their best wishes to Tega Agberhiere and his two friends.
In a statement, they said Tega is a gifted footballer who has played at underage level for Ireland.
Mick McCarthy said: "I was shocked to hear what happened to Tega and his friends in Waterford and I am sure I speak on behalf of everyone involved with football in Ireland when I wish them all well as they recover from the effects of this attack.
"I know Tega is a very promising young footballer and I hope and pray that he is back on the pitch in the very near future. My best wishes to Tega, to his friends and to their families."
Colin O'Brien, currently preparing for this week's Euro Under 17 finals and Friday's opening game against Greece at Tallaght Stadium, said: "It is very upsetting to hear about the incident involving Tega and I hope that he can complete a speedy recovery.
"Tega was in with us at Under-17 level and he had a great attitude as well as a lot of ability. All of the lads in the squad and the staff send on their best wishes to him and his family."
In Israel with the Irish Under 16 team, manager Paul Osam said: "Tega worked with us with the Under 16 group last season and was part of the squad for the Victory Shield in Northern Ireland in late 2017 and for a double header in Romania that same year. He came across as a nice, quiet lad who loved his football and I can only wish him well with his recovery."
Additional reporting Jennie O'Sullivan