The historic Ilen sailing boat, which first sailed along the Shannon Estuary over 92 years ago, has come home to Limerick docks after a restoration which has gone on for two decades.
The Ilen is a 56-foot long wooden ketch designed in 1926 by one of the country's greatest sailors, Edward Conor O'Brien from Ardagh and later Foynes island.
He was a grandson of the Irish nationalist and MEP William Smith O'Brien, and was the first sailor to sail around the world under the Irish flag.
The Ilen, the sole surviving Irish ocean-going wooden sailing ship, spent much of her life as a working transport boat on the Falkland Islands before being brought back to Ireland in 1998 by Gary McMahon, director of the Limerick-based Ilen project.
Mr McMahon, along with Brother Anthony Keane of Glenstal Abbey, headed a volunteer team which oversaw the restoration of the boat to make her seaworthy again.
Much of the restoration took place in Baltimore in west Cork, with the mast and sail work being undertaken in Limerick.
Mr McMahon said it will now be part of a community educational project for the people of Limerick and in particular a learning platform for younger citizens to know more about sailing, maritime history and the marine environment.
He said they want to continue to expand their current educational projects in schools under the Ilen project.
The Mayor of Limerick Cllr James Collins welcomed the boat back to the city harbour, saying it was a labour of love for those who worked on her restoration, funded in part by Limerick City and County Council.
It's a ship, he pointed out, which was designed in Limerick, rebuilt by local people, sailed out of Limerick and was now returning to the city.
The boat will berth at Ted Russell docks in Limerick city, which is operated by Shannon Foynes Port Company. Assistant Harbour Master Hugh Conlon said it was a day with a difference, noting its history as an inter-island trader in the Falklands for some 70 years.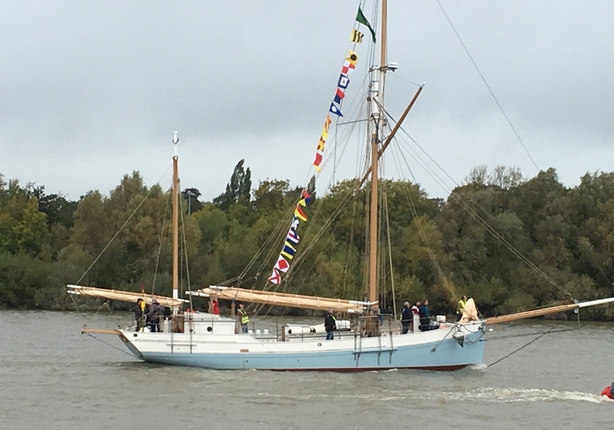 The boat and her history is also part of an ongoing exhibition at the Hunt Museum, which looks at the history of the Gandelow boats built to work on the sandy marshes of the River Shannon.
The exhibition was on display as part of Culture Night 2018.