A rare 800-year-old gold brooch discovered in west Kerry is to be put on public display.
The intricate 13th century ring brooch was found by chance by a walker on the seashore near Dingle.
The brooch contains a small semi-precious tourmaline stone, a dagger-like pin and is inscribed with gothic lettering.
Dr Nessa O'Connor of the National Museum of Ireland says the discovery is significant.
"Approximately 150 ring brooches are known from Ireland, but would usually be of copper alloy. To find one made of gold is extremely special," she said.
The brooch was found amongst stones by Englishman Ian Andrew, as he walked along the seashore at Cluais Mhór.
Isabel Bennet, a local archaeologist and curator of Músaem Chorca Dhuibhne, says it is a tremendous find for the area.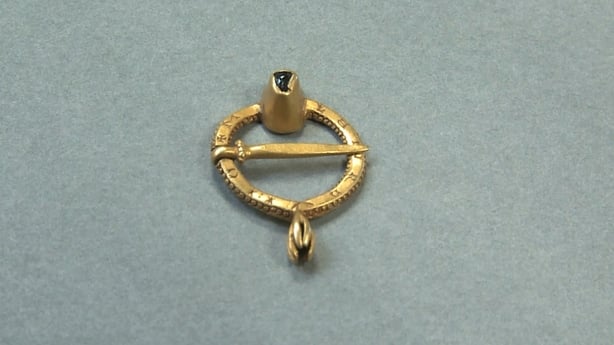 "It's a remarkable find, a first for Kerry. Of course Dingle was a big medieval town, perhaps a young man or woman lost it while walking here, maybe it was washed out of the soil above the strand or perhaps it was carried here by a bird. Who knows, it's a mystery," she said.
Archaeologists have yet to decipher the meaning of the inscription on the brooch.
While most of the letters are legible, their meaning is unclear and they may represent a type of code.
Dr O'Connor believes the brooch may have had a magical or talismanic association for the wearer.
"We know from similar brooches found elsewhere that they were inscribed with codes or short prayers seeking protection from diseases common in the 13th and 14th centuries, such as the black plague," she said.
The public will have an opportunity to view the brooch in Músaem Chorca Dhuibhne in Baile an Fheirtéaraigh on Friday and Saturday.
The precious artefact will then be transferred to the National Museum of Archaeology in Dublin, where it will also be displayed in a more extensive exhibition called "Dressed to Impress".