A special ceremony has taken place on Bere Island off the south west coast of Ireland to mark the 80th anniversary of the handover of the island's British army base to the Irish Free State.
Fort Berehaven, together with Spike Island in Cork harbour and Lough Swilly in the north, made up the so-called 'treaty ports', held on to by the British government for security reasons until 1938 and reluctantly handed back on the eve of World War II.
Once known as Ireland's Gibraltar, Bere Island was a strategic base for the British empire for over 141 years protecting Bantry Bay from invasion by French galleons and attacks by German submarines.
Local historian Ted O'Sullivan says the significance of today is that "a what-if, a close call", is being commemorated.
"If it wasn't for this handover, if it hadn't taken place at midday that day, if it had been delayed a couple of hours, Ireland would have been in the Second World War and Ireland couldn't have stayed neutral."
The handover was kept secret with a small advance party of Irish army soldiers led by Lt Billy Rae arriving on the island three days beforehand.
The only image captured on camera by a fast acting Irish army champlain, Fr Bob Murphy.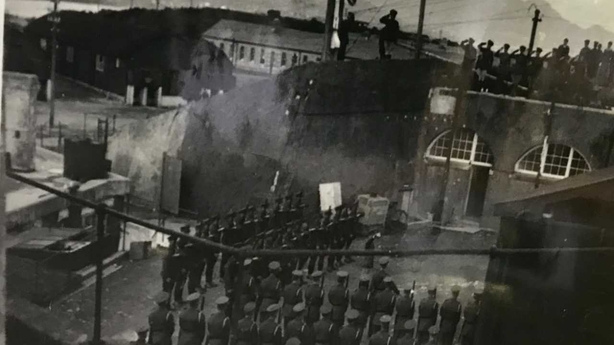 Today, the 80th anniversary of the handover of Fort Berehaven to Lt Billy Rea of the Irish army was marked by a full military ceremony attended by the Mayor of County Cork Councillor Patrick Gerard Murphy and the Brigadier General of the Defence Forces, Paddy Flynn.
For the descendants of those who witnessed the lowering of the Union Jack on 26 September 1938, today's ceremony held special significance.
Jim Rae, son of Lt Billy Rae said "It's very important to us as a family to be here because it is a great opportunity to see it, a bit of history".
The raising of the tricolour by members of the No. 1 Brigade, Collins Barracks, Cork was followed by Reveille and a 21 gun salute with a flypast by the Air Corps.
More than 200 people including islanders, former and serving soldiers, members of the Irish Coast Guard, An Garda Síochána and descendants of those who attended on the day, attended the ceremony.