A torchlit procession and silent gathering in solidarity with all the women affected by the CervicalCheck controversy took place in the west Kerry Gaeltacht village of Baile na nGall last night.
Emma Mhic Mhathúna, the woman who received a terminal diagnosis last week, lives in the small fishing village along with her five children.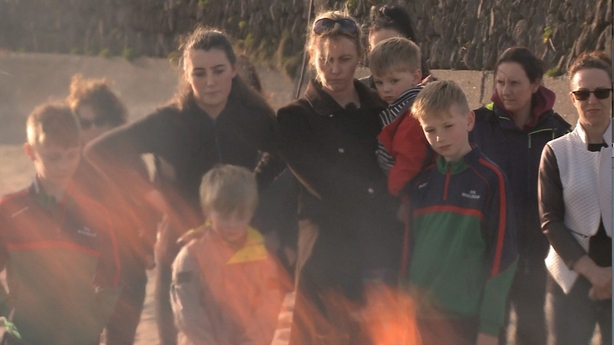 Ms Mhic Mhathúna led the procession from the village car park to the small beach where the 37-year-old was invited to light a bonfire. The large gathering then stood in silence for 209 seconds, in recognition of the 209 women directly affected by the cervical cancer controversy.
Julí Ní Mhaoileoin one of the organisers of the event said the lighting of the bonfire by Ms Mhic Mhathúna was symbolic.
"It represents the burning of the injustice and the deceit which has caused such pain to so many and has destroyed women's lives and the lives of their families."
Up to 400 people attended the gathering. Emma Mhic Mhathúna said she was deeply moved by the occasion.
"It's so beautiful to see so many from our small community standing together here. It's very emotional for me. I'm dying but these people are giving me strength. It's really nice for my children to see so many of their friends here."
"I'm going to continue to campaign until we have full accountability. Women are dying and it could have been prevented if action was taken earlier. This is about our children's future and making sure they can live in a safe country."
Later today, President Michael D Higgins will travel to west Kerry to meet with Emma Mhic Mhathúna. A spokesperson for the President said the meeting would take place in private.