The LÉ Eithne has docked in Limerick city port as the annual May weekend festival Riverfest gets under way.
The ship will be open for families to visit on public tours tomorrow afternoon and again on Sunday.
This is the 14th year of the city's big summer festival, which is expected to draw an estimated 85,000 people to the city's Shannon riverside with sports events, food and fashion festivals, music, water sports activities on the river, and the Great Limerick Run.
Rivers sports activities will include the first-ever visit to Ireland by the Seabreacher Shark, a daredevil aquatic spectacle in a 5.48m shark craft which can travel at speeds of up to 80km/h and will be in action on the Shannon tomorrow.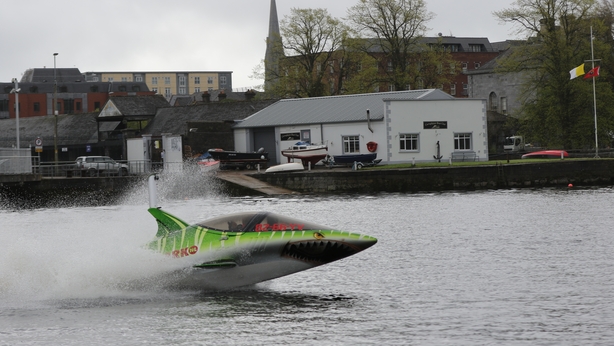 There will also be a double zip-line allowing people to travel at speed across the river. There is also a popular kayaking competition, and kayak tours at night, as well as water zorbing and a public social swim.
A big part of Riverfest centres on food with the annual BBQ on the Boardwalk taking place at Arthurs Quay, which attracts teams from around the world as well as the Riverfest village located also at Arthurs Quay. And for the first time there will be the Limerick food experience in the garden of the Hunt Museum on Saturday and Sunday showcasing the best quality locally produced food.
The city's famous King John's Castle is the venue for concerts on both Saturday and Sunday night as well as a major fireworks display on Sunday night.
From early Sunday morning one of the biggest sports participatory events takes place with The Great Limerick Run, which now attracts over 13,000 people to a marathon, half marathon and a six-mile run across the Limerick suburbs. As part of that a children's sports run takes place in the grounds of the University of Limerick on Sunday morning.
Limerick Arts Officer Sheila Deegan says the growth of Riverfest shows how the city is expanding its visitor offering, as it is now one of the country's big civic festivals which celebrates the river, and the important role it plays in the life of the city for both recreation and industry.