Two large killer whales have been spotted off the Blasket Islands in Co Kerry.
Rarely seen in Irish waters, it is believed the orcas may be hunting seals in the area.
The killer whales have been identified and belong to a pod of well-known orcas normally seen off the Scottish Hebrides.
The two males were spotted by a group of whale watchers around 3km south of Great Blasket Island.
Nick Massett, of the Irish Whale and Dolphin Group, said the killer whales came within 60m of their boat and the close encounter took his breath away.
"This was the first time I've seen a killer whale here and there's just something about them. They're awesome. They are an apex predator and you just know that. You can sense that. They have a presence about them."
The notchings on one of the dorsal fins was quickly identified as those belonging to 'John Coe', a well known killer whale.
The large male was first photographed off the Scottish Hebrides over 35 years ago.
The second orca has been identified as 'Aquarius'.
They are members of a small pod of eight animals called the Scottish West Coast Community.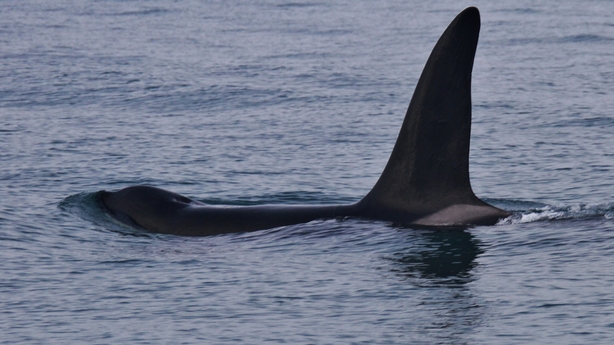 Local whale watcher Britta Wilkens believes the killer whales may have ventured south in search of seals.
"We know that killer whales are predators and eat both fish and other sea mammals. There is a large colony of over 1,000 grey seals on Blasket Island and perhaps they are hunting those."
'John Coe' has been seen off the Irish coast on a number of occasions since he was first sighted here in 2009, most recently in June 2016.
It is believed the killer whales may be venturing further south due to dwindling food supplies.
"There's a lot of concern for this pod. It's been in long-term decline. They haven't reproduced in two decades or more. They unfortunately seem to be dying out," added Mr Massett.
The Irish Whale and Dolphin Group is urging the public to report any further sightings of killer whales on its website www.iwdg.ie.
Two large killer whales spotted off the Blasket Islands in Co Kerry | https://t.co/XYa4QQAlwa pic.twitter.com/Cy34gjF0yg

— RTÉ News (@rtenews) March 7, 2018