Compromise boundary proposals agreed by Cork City Council and Cork County Council following intense negotiations are to be forwarded to Minister for Local Government Eoghan Murphy for his approval.
If the Minister signs off on the new boundary, which will see Cork City's population double, the revised changes could be in place by the end of the year.
The deal also allows for a review in 12 to 15 years.
Discussions on the thorny issue of compensation to cover the County's loss in rates revenues, and the implications for planning and staff, could then take place.
Both city and county councillors were briefed last night following last minute fine-tuning of the boundary line.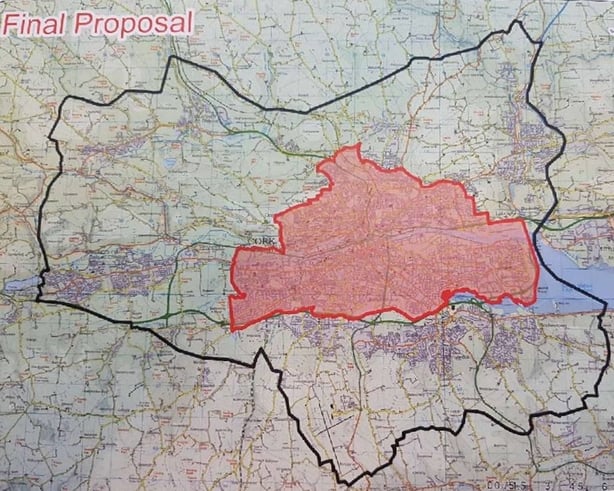 While the revised proposals were welcomed by City councillors, a meeting of County councillors lasted for over six hours and was described as heated, with many councillors expressing deep frustration with the outcome.
Fine Gael county Cllr Kevin Murphy said there was genuine shock at the loss of Blarney and Tower.
But Mr Murphy added that it would have been irresponsible if they had rejected the revised boundary changes drawn up by the Implementation Oversight Group originally set up by the Minister.
He said the deal has been done to the best advantage of both parties and they must go forward hoping that this is the case.
Lord Mayor of Cork, Cllr Tony Fitzgerald, and the Mayor of County Cork, Cllr Declan Hurley issued a joint statement this morning.
Mr Fitzgerald described it as "a historic opportunity", while Mr Hurley said "it was unlikely both sides would achieve all that they individually sought but this would allow them a solid basis to move forward".
The agreed revised city boundary will now include the commuter towns of Ballincollig, Blarney, Tower, Glanmire and Cork Airport, and its business park.
The county will hold onto the commercial rates-rich industrial area of Little Island and Carrigtwohill.
It is hoped the boundary changes will be in place in time for next year's constituency review ahead of the 2019 local elections.