A hillwalker in west Kerry has made a stunning discovery which connects a 4,000-year-old tomb with the equinox.
The megalithic tomb, known as the Giant's Grave, is situated in the valley of Loch an Dúin on the eastern side of the Conor Pass.
Ancient rock art can be found within the tomb, including a cup and circle near the head of the tomb.
For the past 14 years Daithí Ó Conaill, a retired school principal, has visited the site during the winter and summer solstice hoping to make a connection between the tomb and the sun.
He has now discovered that the wedge tomb is actually aligned to the setting sun of the equinox, which last occurred on Friday 22 September.
A man in Kerry has made a discovery about a 4,000 year old megalithic tomb near Conor Pass, revealing it is illuminated during the equinox pic.twitter.com/oHZ3h1vt2P

— RTÉ News (@rtenews) September 25, 2017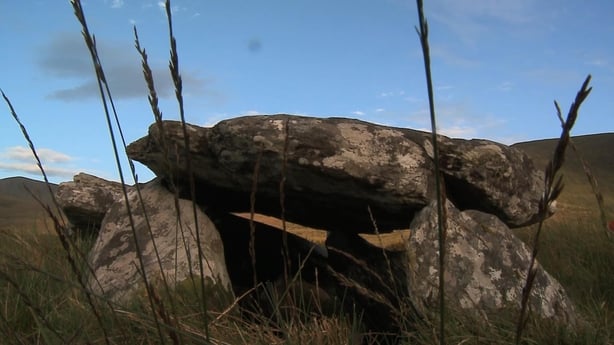 As the sun sets directly into a 'V' shaped valley in the distant Brandon mountain range, a shaft of light enters the wedge tomb, illuminating the chamber and the rock art at the head of the tomb.
The event can be witnessed at sunset for a number of days either side of the equinox.
Archaeologist Míchéal Ó Coiléain who has carried out extensive surveys in Loch an Dúin said it was a stunning discovery, providing a fine example of the engineering brilliance demonstrated by the people who constructed it.
"Daithí's discovery is wonderful and it goes to show that people living 4000 years ago are aware of movements of the sun. They are agricultural communities, so to know when the longest days of the year, the shortest, and when the equinoxes fall is so important. To construct such a perfectly positioned monument required remarkable expertise and knowledge."
The Equinox occurs twice a year when the plane of the Earth's equator passes directly through the centre of the Sun's disc.
During an equinox, night and day are approximately the same duration.