Councillors in Limerick have expressed their anger and deep disappointment at the decision by Limerick County Council to grant planning permission to Irish Cement to burn alternative waste such as used tyres and solvents at their plant in Mungret.
The council gave the company the go ahead for the project, subject to a number of conditions including the granting of a licence by the Environmental Protection Agency, on 9 March.
More than 1,000 people took part in a protest against the proposal following that decision.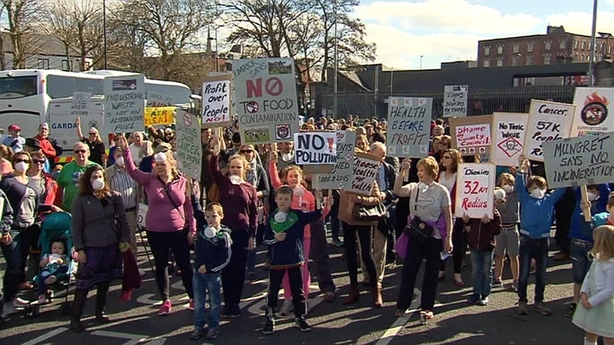 A meeting of the Metropolitan area of Limerick Council ended in disarray after councillors felt their considerable opposition to the proposal was not considered.
Fianna Fáil Councillor James Collins, who has campaigned against the proposal, said they were very disappointed with the decision of the council's planners to grant permission.
He said he has lodged his objection, along with 2,000 other local people, about the decision.
He said councillors have unanimously passed a motion against the incineration of toxic waste in the metropolitan area.
In addition, they want their strongly held views on Irish Cement's proposal included in any submission the Council makes to the EPA.
He said they had not been given adequate assurances by Council executives that their views would be included.
They are also seeking advice from Council executives if councillors "as a collective" can oppose a planning decision of their own council. That right was taken away under the recent reform of Local government.
Cllr Daniel Butler of Fine Gael, who is also opposed to the proposal, said councillors are very disappointed as they feel this is the wrong decision, and that this issue of extreme public interest and concern was not allowed further discussion.
He added that there is also a huge amount of anger that this is now no longer a local issue and has moved to become a national issue with its consideration by An Bord Pleanála, where councillors who represent local people will have no influence or control.
Local environment group Limerick Against Pollution, which organised the recent march against the proposal, is challenging the decision to An Bord Pleanála and is also campaigning against a licence being granted by the EPA.