A new national park has been announced for the Boyne Valley area of Co Meath.
The Boyne Valley Brú na Bóinne National Park will be Ireland's seventh national park, and only the second in the eastern part of the country.
It follows the purchase by the State of more than 500 acres of land at Dowth Hall and Demesne, which account for about one third of the UNESCO World Heritage site of Brú na Bóinne.
The property had been on the market for €10 million.
The site is described as one of cultural and natural heritage of national and international importance, with its heritage spanning from early pre-history to the modern era.
Its acquisition has been described as a "once-in-a-generation opportunity" by Minister for Heritage Darragh O'Brien.
Dowth Hall and Demesne includes two country houses, Dowth Hall, an 18th century neoclassical country house, and Netterville Manor - a late Victorian almshouse - as well as 552 acres of land along the River Boyne.
It forms part of Brú na Bóinne, which was inscribed on the UNESCO World Heritage List in 1993, along with the three megalithic passage tombs of Newgrange, Knowth and Dowth, which are already in the ownership of the State and managed by the Office of Public Works (OPW).
The purchase paves the way for the establishment of the national park.
Mr O'Brien said the landscape and property at Dowth is of exceptional heritage importance.
"Here in this one place we have over 5,000 years of recorded history. In our care, it will significantly enhance our management of the Brú na Bóinne World Heritage landscape.
"We will conserve and protect Dowth's heritage in line with our obligations to UNESCO and we will enhance responsible tourism, ensuring it becomes a standout destination."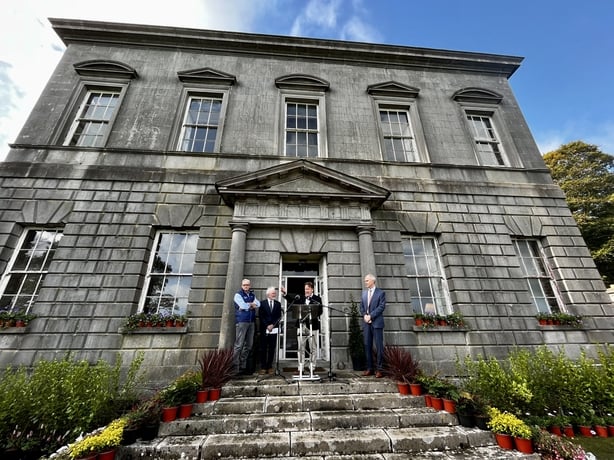 A master plan for the protection, presentation and management of the new park will be developed by the National Parks and Wildlife Service (NPWS), the OPW and the National Monuments Service.
The plan will form part of the existing management plan for Brú na Bóinne.
The NPWS said this would be approached with a sense of responsibility, ambition and excitement.
"This new national park is a special place where history, heritage, nature and culture collide.
"We will work with stakeholders in developing a masterplan that will deliver on its full potential for locals, visitors and generations to come", Director General of the NPWS Niall Ó Donnchú said.
Ireland's national parks protect biodiversity and built heritage, promote education, research and recreation.
The lands at Dowth host a wide range of habitats including grasslands, native woodlands and mature hedgerows.
The River Boyne is home to dozens of bird and animals, including endangered species, and is designated as a special area of conservation and a special protection area.
A recent biodiversity survey of the lands reported 54 species of birds, five of which are of high conservation concern, including a population of red-listed and highly threatened native grey partridge which is supported by a captive breeding population on site as well as woodcock, kestrel, swifts, yellowhammer and grey wagtail.
Foxes, badger, rabbits, hares, shrews and red deer have also been recorded in the area along with 11 species of butterfly, eight species of bat and seven species of bee.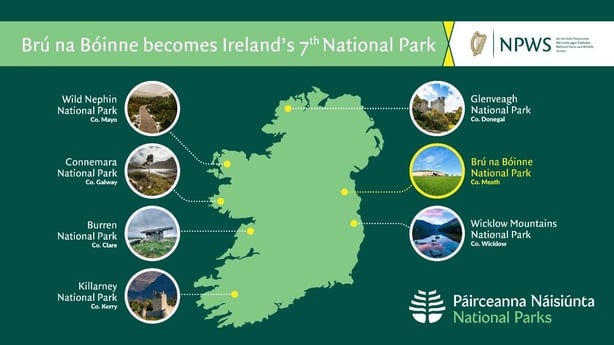 Minister of State with responsibility for Heritage Malcolm Noonan said this was an outstanding addition to Ireland's family of national parks.
"We look forward to sustaining and growing this legacy to ensure that farming, nature and the cultural heritage of this ancient landscape can continue in harmony, as they have done since our ancestors first settled in the Boyne Valley over 5,500 years ago".
For the last decade, Dowth has been managed by agri-tech company Devenish Nutrition and there is a research farm on the land.
Devenish Executive Chairman Owen Brennan welcomed what he called an exciting new chapter for Dowth.
It is expected that the site will be used for farmland biodiversity research and education in the future, with demonstration sites for new agri-environment measures to improve biodiversity, water and carbon emissions on farmland.
A new dawn is coming for the World Heritage lands of Dowth Hall and demesne … pic.twitter.com/0Kzmwhc6H0

— Department of Housing, Local Government & Heritage (@DeptHousingIRL) September 29, 2023
The Minister of State with responsibility for the OPW said that Dowth Demesne was a key part of the outstanding heritage of the Boyne Valley.
Patrick O'Donovan said: "It is highly significant that the State will now be able to unite the wider historic landscape to create an extraordinary resource for the enjoyment of current and future generations."
Boyne Valley National Park is the first such designation in 25 years, since Wild Nephin in Co Mayo was announced as a national park in 1998.
'Rich archaeological site' - historian
Meath historian Noel French said the estate and the Georgian-style house belonged to the Netterville family.
"It had been pretty run down before it was purchased about ten years ago. It has some fantastic plaster work. There is also alms houses, created for widows."
Mr French told RTÉ's Morning Ireland that "it is just such a rich archaeological site".
"They took down the conservatories on the south side of the house about ten years ago, and they dug down and they discovered more megalithic tombs just under the house itself."
Mr French said it "has so many different examples from Neolithic times. There is a huge hinge about 170ft (52m) long, it possibly was used as a processional wave. There are two banks on either side of it.
"But in more recent times it was used as a deer park.
"This land borders the Boyne across the river from this land is Oldbridge, and the Battle of the Boyne site, which is also owned by the OPW and the State, and there is about 400 or 500 acres of parkland, and they're getting about half a million visitors a year there."
Mr French said the purchase is a "fantastic opportunity for the tourism, for creating an amenity, for the whole area".
A lot of work has been carried out on the house, he added, which was "pretty derelict ten years ago".
"There is still a huge amount of work to be done on it and it is really only something the State can afford to restore and upkeep and maintain these buildings, otherwise they get turned into hotels, golf courses, and while they're all great, it's nice to have a few ones that are preserved in their original format."
'Master plan'
The "master plan" to secure and manage the site is expected to take two years to complete.
Due to this timeframe, it could be some time before the public can freely visit the new national park.
However, Minister O'Brien said he expects that access for the public could be provided over a period of time on a phased basis before the National Park is fully opened.
The ministers confirmed that the State paid €11 million for Dowth Hall and Demesne, which had been advertised on the property market for €10 million.
They said that the purchase of the site was "good value" for the Irish people.
Further investment in the site will also be needed, with significant restoration work to be done on Dowth Hall itself, as well as other buildings on the Demesne.