A new state-of-the-art facility in Co Offaly, which includes a 228-seat auditorium, has been described as a "major landmark" in the advancement of the arts in the midlands.
President Michael D Higgins officially opened the long-awaited Esker Arts Centre in Tullamore.
The centre also includes a performing arts space called "the Ailiúin Theatre".
Addressing those gathered at the opening, President Higgins said the arts centre "represents a major landmark in the advancement of arts in the midlands".
He said the centre "realises so much capacity for now and the future".
President Higgins said in "times of multiple crises and daunting, seemingly insurmountable, challenges the provision and enrichment of creative spaces becomes even more important".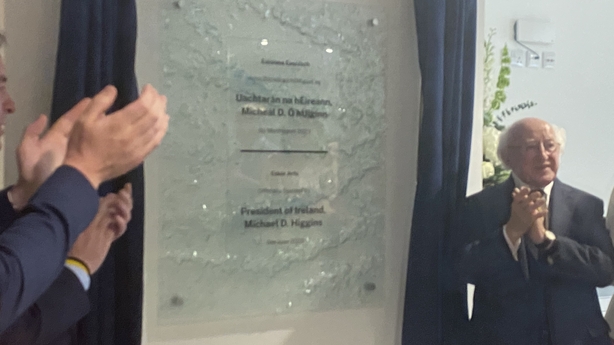 He also said that it is through the design and provision of community spaces like Esker Arts Centre "that we continue to ignite and celebrate creativity amongst our citizens".
President Higgins said "it is so often through our encounters with literature, drama, music and art that we come to understand the human condition, resonate with each other, finding our perceptions challenged, clarified or enhanced".
He said such a sense of creativity must lie at the heart of any truly just and equal world.
"Citizens who think creatively, knowing how to ask the critical questions of our decision-makers, citizens who by refusing to accept unthinkingly a dominant ideology or to conform unquestionably to a status quo, such citizens who are key to creating democratic societies that place community and social cohesion at their heart".