"Unprecedented residential development in Drogheda and its hinterland means that city status has become an absolute necessity."
This is what a voice set over dramatic and impressive drone footage tells us.
The video showcases some of Drogheda's most recognisable landmarks, set against a backdrop of the town's sprawling landscape.
Commissioned by the Drogheda City Status Group, this video is the latest move in a long-running campaign calling on the Government to upgrade the country's largest town to a city.
City status is not just a name.
The group wants a new city council to oversee its development, and believe it would bring jobs, investment and tourism.
While this campaign is now years-long, an explosion in population and house-building in recent years seems to have energised it.
"There is wind in the sails," said Anthony Murphy, PRO for the campaign.
"There is a feeling locally; people are beginning to get the message and believe in it," he said.
This, Mr Murphy added, has been spurred on by the recent sod-turning on a major new road, the Port Access Northern Cross Route.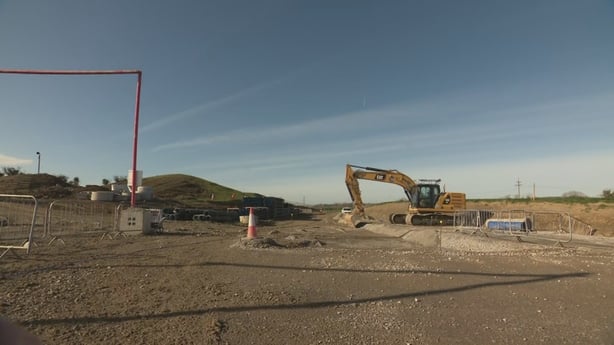 This road is opening up land on the north side of the town for up to 7,000 homes to be built on a phased basis in the coming years, with the potential to add an extra 20,000 people to the population.
But even without this projected growth, the Drogheda City Status Group says the population of the town and its hinterland in east Meath is already big enough for it to be elevated.
The 2016 Census put Drogheda at 41,000 people.
Campaigners say when nearby urban areas in east Meath are added, it increased to nearly 53,000.
The most recent Census figures for 2022 are expected to be published shortly.
But using preliminary data based on electoral divisions, the campaign says 67,000 people now live in and around Drogheda and east Meath.
Drogheda city
Mr Murphy said that Drogheda is the fastest growing town in the State, with development on a scale not seen anywhere else.
One of the group's main objectives is the establishment of a city authority.
"The goal would be to have a say, to have a level of autonomy over the future of our city," he said.
Mr Murphy said that, historically speaking, Drogheda had been "stymied" by the natural division created by the River Boyne, separating Louth and Meath.
"We have fallen between two stools as it were. We are managed remotely in terms of councils in Navan in the west and Dundalk in the North. We lost our own borough council. We don't have the autonomy a large town should have," he said.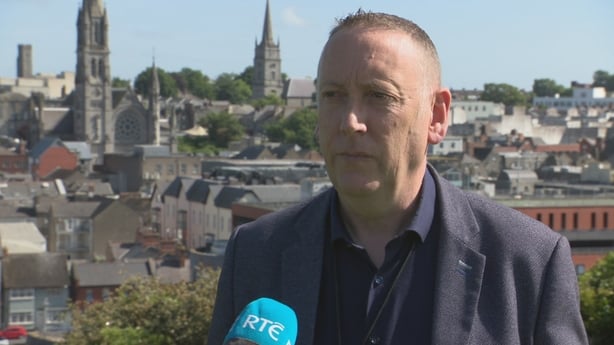 Mr Murphy argued that if a central administration is not set up, there will be vast areas of residential development, but nothing else.
"The risk is that if we don't get that (city status), Drogheda will develop massively residentially, but do we have the facilities for them? Do we have the job opportunities for them? Or do we become a sleeper city, where they sleep here overnight and then they're on trains and buses into Dublin in the morning?"
The group attributes the rapid population growth to development in the space between Drogheda and east Meath, almost merging the areas together.
Mr Murphy said that in some cases only a field or two lies between some of the parts of east Meath and Drogheda.
"Our argument is that those coastal villages should be considered as part of a 'greater Drogheda area'. That's what we're looking for. A Drogheda city administration, not just for Drogheda but for the outlying areas."
The group is now calling on the Government to take action.
"We would ask the Government to do one simple thing - look at the figures. You can't argue with them. The facts are staring you in the face. Give us the chance to become a city," Mr Murphy said.
Future-proofing
While the city status campaigners look to the future, the Drogheda Implementation Board has been working to improve issues from the town's past.
It was set up in response to a deadly drugs feud that "ravaged" the town in recent years.
Coordinator of the Drogheda Implementation Board Gráinne Berrill said that the impact of the feud on the town was "enormous".
"We did have incidents on the main streets in the town, we had shootings up beside where the children were coming out of the pool, beside busy shops and near schools. But also, the communities who were being ravaged by the actions of organised crime gangs, and whose children were being caught up in it they were very heavily impacted.", she said.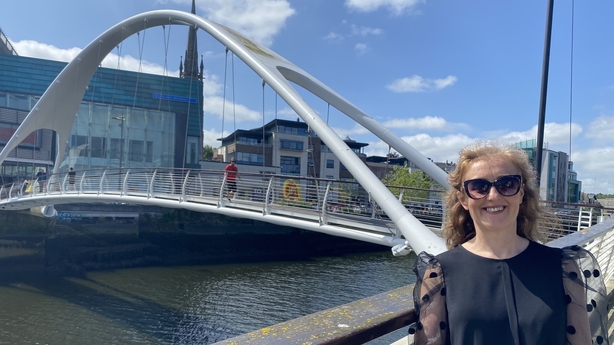 So far, an extra €12 million in resources and funding has been secured for Drogheda through the work of the board.
This money is being spent on things like extra teaching and education resources, youth diversion programmes for children and young people at risk of being groomed by criminal gangs, a new apprenticeship training centre for the town and capital projects.
While its work is mostly around addressing historic issues, there is now also a focus on "future-proofing".
"We need to be aware that this town is exploding in terms of growth. When are talking about getting services to the area, we are talking about providing supports in advance for when this population comes", Ms Berrill said.
She said the fact that housing was "going up like mushrooms" was "fantastic" in the context of a housing crisis, but it also had an impact in terms of service delivery.
One of the capital projects planned is a new community hub planned for Moneymore, an area Ms Berrill said was "particularly impacted by the activity of organised crime and not having resources".
She said this project also happens to be located on the verge of where much of the new development on the north side is planned, and so it will serve that new community as well.
The Drogheda Implementation board is made up of both statutory and community agencies, including the local authorities in both Louth and Meath.
Ms Berrill said one of the positive things about the creation of the board, is that representatives from both councils are involved and are "coming together to address specific issues identified in the plan".
All to play for
In United Park, groundskeepers are preparing the pitch for a clash between home side Drogheda United and UCD.
As a part-time club playing in the premier division in the League of Ireland, its director Conor Hoey said it "punches above its weight".
He said the growth of the town is going to be "fundamental to the club's success".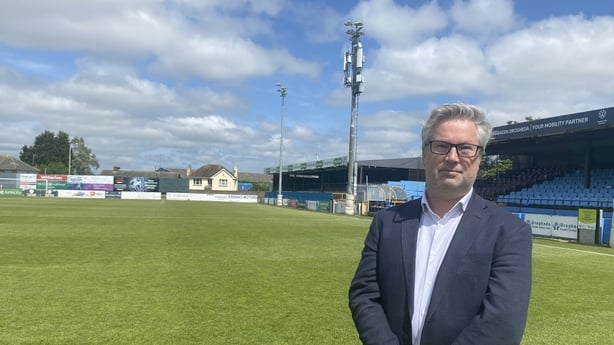 "As the town grows, our ambition for the club is to draw a bigger crowd", he said.
It has big plans to build a brand-new stadium on the north side of Drogheda, close to where thousands of new homes are to be built in years to come and is hoping to attract international investors to support its growth.
"There is a huge hinterland of potential supporters, alongside our wonderful existing supporters. We think that would sustain a successful, full-time professional club in the long term", he said.
Mr Hoey said Drogheda was the capital of the Boyne Valley region and that becoming a city was a "natural progression".
"That's what is going to help the town fulfil it's potential", he said.
Electoral commission
The discussion and debate around Drogheda and its hinterland extends also to constituency boundaries.
Currently, those close by coastal areas of East Meath like Bettystown and Laytown are in the Louth Constituency for general elections.
The Electoral Commission, which was set up in February to oversee elections in Ireland, is undertaking a constituency review, based on the latest population data collected in the last census.
Its report and recommendations will be put before the Oireachtas before the end of August.
As part of the process, it is considering submissions from the public - including dozens on the Louth constituency.
Many of these urge the commission to retain Drogheda and East Meath in the same constituency.
But a case is also being made by some to create a new constituency with Drogheda at its heart.
Among them was Conor Hoey, who said that either the status quo should remain, or that a new constituency could be established for the Drogheda/South Louth/East Meath area, which, he said, could include "some outlying regions that depend on Drogheda for resources and facilities".
"The projected growth in the area, I feel, warrants that representation be dedicated to this distinct urban area", he said.
But this is a complex issue, and not everyone feels the same
One submission made the observation that the county of Louth on its own could become a five seat constituency, and said that "would resolve an existing issue whereby some parts of Co Meath are part of the Louth constituency".
Another, from St Colmcille's GAA club in Bettystown, outlined several reasons why it was calling for the commission to return this portion of Meath to a Meath constituency.
It said there was a "mismatch" between its "local needs being served (excellently) by Meath County Council but our local political representation in Co Louth has caused significant difficulties and has been difficult to explain and manage with members and our community".
The legal bit
But who decides whether or not Drogheda does in fact become a city and is there even a mechanism to allow it?
"One of the problems, is that there is no clear route in law as to how an area the size and scale of Drogheda actually obtains city status", said Labour TD Ged Nash.
"That's one of the weaknesses in Irish legislation, and it's something that I've been calling on the Government to address".
Mr Nash said he absolutely supports the idea of Drogheda becoming a city.
He said that growth was happening in a way that wasn't properly structured, and that one of the issues is that the town has developed over two local authority areas.
"That can only be addressed by doing two things - that's extending the boundary of Drogheda into the urban part of Drogheda that is currently in Co Meath, and also by ensuring that Borough Status is restored to Drogheda", he said.
He said that Victorian era boundaries bear little relationship to the reality of towns and cities in Ireland now and that a review of the town and county boundaries needs to take place as a matter of urgency.
"All of that urban area in South Drogheda that is part of Co Meath, that needs to be included in the administrative area of Drogheda, from the point of view of sustainable planning and proper development of the area".
Mr Nash said Drogheda had suffered from "institutional inertia" and that Government had shown "no appetite" to address the issue.
He said that there is a renewed interest in the campaign, and it is now up to Government to make it happen.
Also hoping to progress the issue, is Government TD Fergus O'Dowd.
The Fine Gael TD for Louth said he has prepared a bill to legislate for Drogheda to become a city, which he hopes to put before the Oireachtas for consideration soon, pending the publication of census data.
However, Deputy O'Dowd stressed that this is a complex issue that not everybody agrees on, and it won't be easy to achieve.
He said the complicating factors include the complexity of creating a new authority and also getting the consent of the people.
Mr O'Dowd said his bill would provide for the creation of Drogheda city, but whether those areas of East Meath in close proximity to Drogheda would be included would need to be voted on.
"You have to give people a choice, if they want to do that or not, you can't just do it because you want to. The people have to be persuaded, as I believe they can be", he said.
Mr O'Dowd said that according to his bill, any vote to include those parts of East Meath in the 'city' would require a two-third majority, but it also provided for the City of Drogheda in Louth to be created if that vote did not pass.
He said that "city status" cannot just be in name, and that Drogheda would have to have its own separate administration, with power and authority to make decisions.
National Planning Framework
The Department of Housing and Local Government said that Drogheda is recognised as one of five "regional growth centres" as part of the National Planning Framework for Ireland until 2040.
It said that the framework aims to support its development and economic potential as part of the Dublin-Belfast Corridor and in particular the core Drogheda-Dundalk-Newry network.
The department said that Drogheda is one of the areas targeted for significant growth and that in 2021, both Meath and Louth County Councils adopted new development plans which "further underline the importance of Drogheda as a key urban centre in both counties".
But while 2040 is a long way away, the Government has committed to updating the National Planning Framework next year and the preparatory work for the first revision has started.
The department said that a team has been set up to develop a proposed roadmap, determine the scope of the potential revision, and to examine all the related governance and operational requirements, "should the Government make a decision to revise the NPF".
In the meantime, Ged Nash said that Drogheda "needs to continue to act like a city".
"City status is a state of mind", he said.