A free shop located near Courtown in Co Wexford which offers food, clothes and sanitary items to people every Tuesday draws scores of people each week who queue outside before it opens.
"This service is very important. It's angels that god sent down here," said Mary O'Brien.
The grandmother queued with 68 other women, men and children for free clothes and food outside a small portacabin near Courtown last Tuesday.
"When he was giving out angels he was giving the biggest ones out down here," Ms O'Brien added, referring to the founders of Riverchapel Community Free Cycle Liz and Aine Byrne, whose free shop distributes food, second hand clothes and other essential items donated by the local community to people finding it difficult to make ends meet.
"The work that they do down here is great," added Ms O'Brien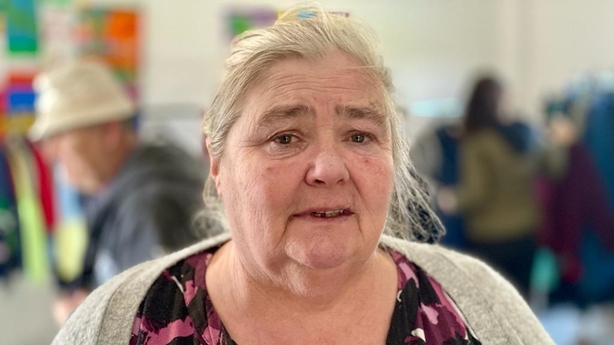 "I'll get auld clothes and if they have food I'll get that. I'll get shoes for the children and sometimes nappies and baby wipes. I mean, it's very important to me family, never mind me," said Ms O'Brien.
When the doors opened at the free shop at 11am, the entire queue rushed quickly into a small room in the portacabin.
People grabbed what they could. Crockery and glasses were stuffed into bags. Dresses, shirts and children's clothes were taken from railings. Food was handed to those who needed it.
"People come in and people who are used to coming know the set up so they will go directly to where they're looking for things," said Liz Byrne, founder of Riverchapel Community Free Cycle.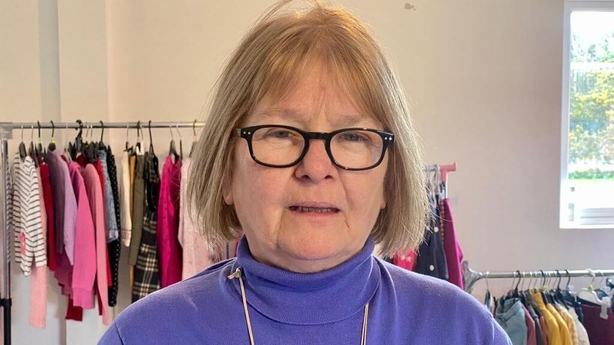 "When would you have ever thought in your lifetime you would see this and people are not taking for greed, people are taking because they genuinely need it," added Liz Byrne.
Riverchapel Community Free Cycle was originally set up in response to Ukrainian people moving to the area last year. Since then, Liz Byrne says locals and other nationalities use the service.
"They [Ukrainian Refugees] had no money, they had no food, they had no clothes, they had accommodation. Now we have Romanians, French, Irish, all nationalities come.
"If there's food, that's the first thing that will go. If not, it's clothes for their children and sanitary items.
"A mother goes into the shop. She won't buy a bottle of shampoo because she needs to buy a loaf of bread.
"We've seen women stand in here cry because they can't provide for their families. We've had men cry in here, thanking people for what we're doing. A horrible thing to think that in today's society people feel they can't look after themselves, their families," added Liz Byrne.
We need your consent to load this rte-player contentWe use rte-player to manage extra content that can set cookies on your device and collect data about your activity. Please review their details and accept them to load the content.Manage Preferences
Aine Byrne - Liz's daughter - runs the service with her mum. She said the cost-of-living crisis means more people are using their service.
"I recently had a gentleman come in here. He pulled up in a 181 [registered] car and he sobbed his heart out.
"He said 'people see my car, they see my job title and they think, oh my god, he's raking it in'. I can't pay my mortgage and my wife is still using the credit card. How do I tell her? We are struggling and I am working every hour under the sun, but everything is going up'.
"We're seeing it all," said Aine Byrne.
People using this service told RTÉ's Morning Ireland that rising living costs mean they need additional support.
"The bills have to be paid and they just seem to be getting higher and higher and higher, like. And then the food shop is just scandalous.
"So, if I can get few clothes for the children or myself or whatever, like, you know, then I can put more money in to the oil and food and stuff. It's very hard," said Ciara McRedmond.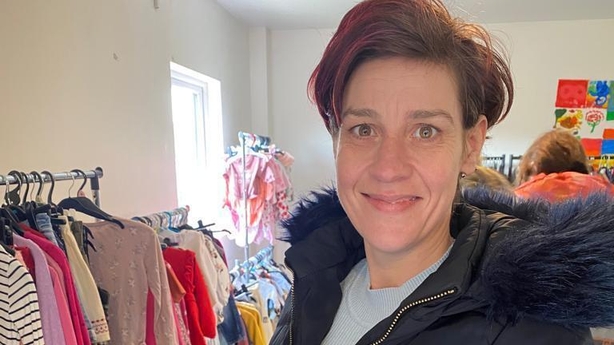 Another woman who wished to remain anonymous told Morning Ireland she attends the service because of rising rent and energy bills.
"I'm here for help. I'm alone with my son and I need to help. My landlord wants to increase my rent and I can't pay anymore. I have a very big bill of electricity. It's terrible and I just cry because I have nothing more," said the woman.
Riverchapel Community Free Cycle runs weekly at the Riverchapel Community Hub near Courtown in Co Wexford on Tuesdays between 11am and 1pm.