Stella Maris Nursing Home in Athlone, Co Westmeath, closed eight weeks ago due to rising costs.
Its Director of Nursing Clare McNally explains the small home for the elderly had been run by her family for 35 years.
Speaking on RTÉ's This Week, she said: "We had twenty-one residents on the day we announced we were closing."
Stella Maris had capacity for 25 residents before Covid, but that was reduced to 23 to allow for more private rooms.
Ms McNally walked me through the former day rooms - now empty and silent. Some wheelchairs and equipment remain along with random items of furniture she could not sell.
"It just really shows how empty the place is now, somewhere that always had so much life in it is so empty and so echoey," she said.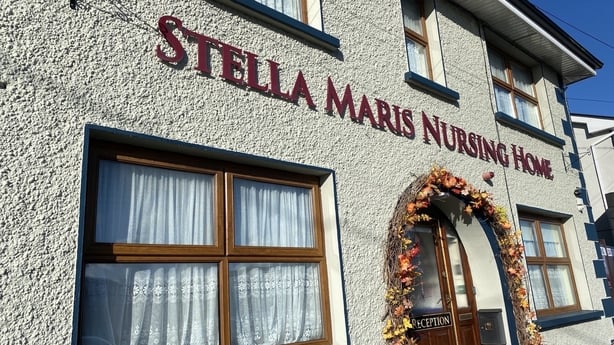 Stella Maris employed 28 staff. One woman had worked there for 34 years.
So why did the busy Athlone nursing home close?
"I suppose we were coming closer and closer to our break-even point," Ms McNally explained, adding that when capacity was reduced to 23 residents the cost of everything rose.
HIQA also asked that fire safety in the old building be upgraded.
We spent €100,000 this year until we closed. We had a new roof put on last year," she explained.
But following a new HIQA inspection last autumn more work was needed.
"It became more and more evident that costs were spiralling out of control."
---
Read more: Nursing home owners 'fearful' over rising costs
---
Ms McNally says HIQA needs to work with the National Treatment Purchase Fund which oversees Fair Deal funding.
"On the one side you have HIQA wanting to keep the standards high, and of course that's what you want to do. Then you have Fair Deal on the other side not willing to increase your fees so you can do that."
Stella Maris received €950 per resident per week. Ms McNally said the HSE home in the area received €1,900 per person per week.
"You're expected to provide the same standard of care. You can't manage to stay open if you can't pay your bills."
She led me through the dining room where the board displaying the weekly schedule of activities remains in place. The hardest part was informing the residents that Stella Maris was finished.
"They were devastated. It was breaking their hearts that they were having to move out of their home for a second time," she said.
Staff at Stella Maris helped all of the residents find new homes in Ballinasloe, Ferbane, Moate, Clara.
"Very few got to stay in Athlone because there's not that many nursing homes.
"One of our other local nursing homes announced their closure the week after we closed."
Since the closure, other small nursing homes have been in contact to inquire about the process of closing down.
"In the first few weeks it was two or three nursing homes a week ringing us. We are happy to support them because it's an awful thing to have to go through."
The closure has taken an emotional toll on Ms McNally and her family. Her sister Aine also worked at Stella Maris where they grew up knowing nothing else but caring for the elderly.
"It's a grieving process really. It actually pains me to come in here," she said
She does not know what is next for Stella Maris, but she does know it will not be the same without the residents.
"That's what it's missing - residents, staff, and the care we provided - everything that we loved to do."