Heard the one about a shark crossing the Atlantic to follow a horse?
Carlow trainer John Joseph Hanlon ('Shark' to all and sundry) is in transit to New Jersey in hot pursuit of his equine sensation Hewick.
Bought for the bargain price of €800, Hewick became the "People's Champion" over a remarkable season of racing triumphs.
And now, he is chasing the American dream, currently in quarantine in the States ahead of a tilt at Saturday's US Grand National.
He left the yard in Fenniscourt last week, going west via the circuitous route of England and Belgium.
Now the bargain buy is chasing success in the $250,000 race at the Far Hills course in the affluent suburb of New Jersey.
"It's a great story," says Hanlon of his horse that's won €300,000 in prize money in the last few months.
"It's something you dream but seldom do. We were in Goresbridge and this horse was there we saw him and liked him, then brought him home and from that day to this, everything has gone right.
"A lot of things can go wrong but everything with this horse went right, and we are really looking forward to America now," Hanlon adds.
Ahead of the big race at the weekend Hanlon has been busy, too, casting his eye over Hewick's rivals.
"There's one English horse in it and the rest are American horses. It's two mile five furlongs, I'm just hoping it's not too short for him - but he's a fast horse.
"The jumps over there are different. In Ireland you have hurdles and fences, over there it's neither a hurdle or a fence it's in between.
"So we have been trying to get the horse to jump for the last week in between those fences but he has been learning quick - he's a good learner."
The US Grand National will be the 101st edition of the famous race, and Hanlon is confident of Hewick adding to his tally of triumphs.
Hewick's gritty victory in the Galway Plate was one of the highlights of the sporting summer.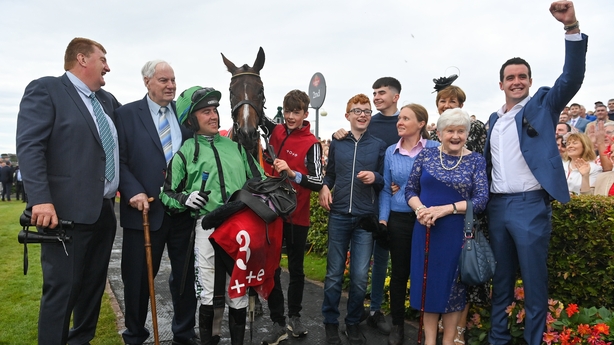 And racing glory hasn't turned his head, it seems, as he is more than happy to chow down on some humble aeroplane food.
"I think he will run brilliant! He's in quarantine now but he travelled very well. He's eating - some horses won't eat or grub up but this horse has done everything right. The chap that's with him said he's delighted with him, he's very happy with him."
Hewick will emerge from quarantine when his Carlow connections arrive in the US but it will be much more than just 'Shark' and his sidekicks cheering him on from the stands.
"It's unreal, I can't believe how many Irish people are going to the race. They are texting me and ringing me and emailing me. He's a people's horse and we will try to keep it that way because without them people we wouldn't be here."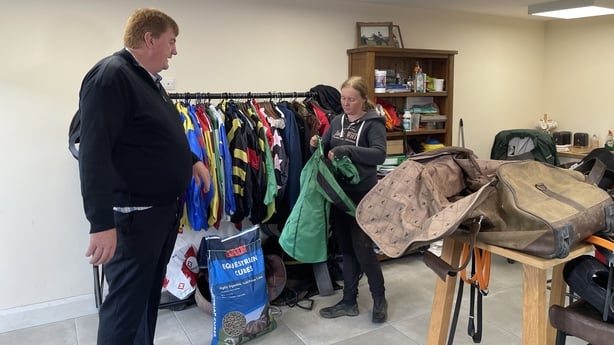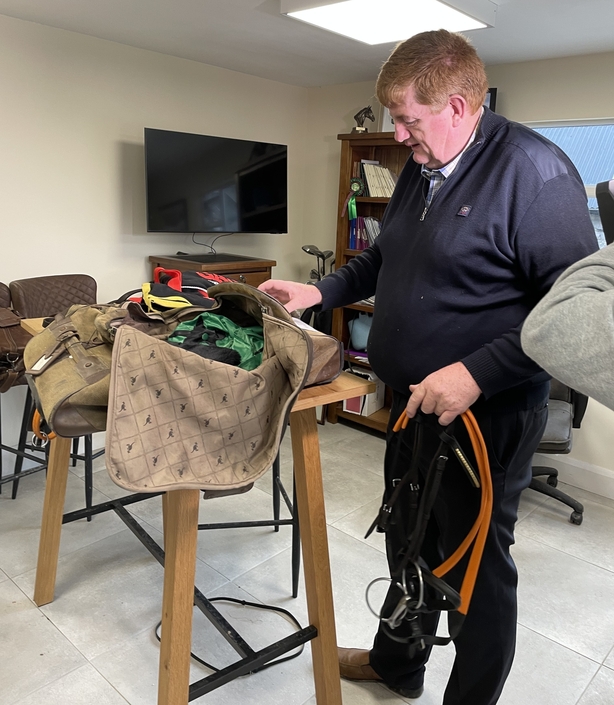 Hewick's heroics have also generated big interest in America, according to Hanlon.
"They are looking forward to this horse going over. Bigger trainers are expected to be there but with a small trainer, we are just lucky to be there."
As for visualising victory in the biggest jumps race in America - well, 'Shark' hasn't even pondered that, he insists.
"I came out of the stands in Galway and it was a dream come true to win a Galway Plate and then the disappointment in Listowel, (when Hewick fell). But the most important thing is the horse is okay and when we came out of Listowel, we were happy.
"And we had this in the back of our minds so when he came home fresh, I said 'listen, here we go'.
"He wants good ground, and you are going to get good ground in America," Hanlon explains.
As Hanlon and his partner Rachel pack up Hewick's bridle and colours, the handler adds: "We either finish his season now or we give him one more run."
And what if Hewick wins in New Jersey?
"It will take a long time to come home," Hanlon laughs.
If this American dream comes true, 'Shark' will no longer be a small fish in a big pond.