A farmer in Ferns, Co Wexford, has said that up to 30 acres of land was engulfed in flames yesterday afternoon.
The wildfire, which took a number of hours to bring under control, was attended to by six fire appliances and two water tankers from Wexford and Wicklow.
Local farmers also took part in the operation by creating a firebreak, directing traffic away from the scene and moving bales of hay out of the way.
"It [the fire] was at the back of Ferns GAA pitch," local farmer Paddy Walsh said.
Speaking on RTÉ's News at One, he said: "There is some barley sown there and I think it started spontaneously. With the wind it transferred across fields and kept on going until farmers got to stop it.
"It moved along and got into some hedgerows, it was hardest to keep it down in them because the flames went maybe 15 to 20 feet high. That was the biggest problem.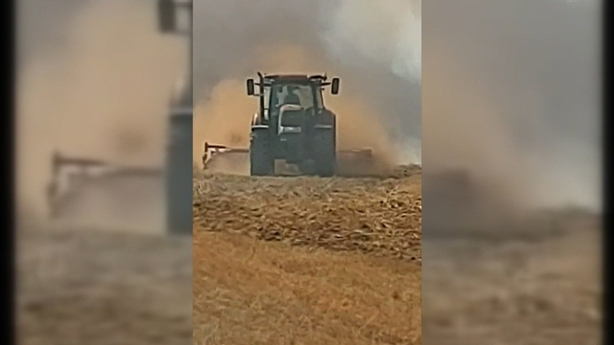 "There was more than me but I got a disc harrow and tilled the ground in front of the fire to bring up the clay so that the fire couldn't move further", he said, adding that he had viewed videos on YouTube, which gave him the idea.
"There was another farmer doing the same and there was another few farmers with tankers of water and they were wetting the ground and the ditches to keep it at bay. The wind died down at the right time as well so that was a massive help", Mr Walsh explained.
Wexford Fire Service attended the scene as did a number of local men who were in Ferns at the time.
"They just happened to be in the village putting up flags for a county final. They were the first on the scene. They moved a lot of bales away from harm's way to make space for the tractors," Mr Walsh said.
"Every farmer is very vigilant now. A lot of farmers have tankers of water ready to go. A spark off a machine could set a whole field alight. It's best practice to be vigilant".
A farmer in Ferns, Co Wexford assisted in tackling a wildfire yesterday by creating firebreak | More: https://t.co/Kgk8epVM0b pic.twitter.com/OH3EpIrU0L

— RTÉ News (@rtenews) August 12, 2022