Whether it is the sweet taste of the fruit or the tradition of pulling over on the side of the road to pick up a fresh punnet, there is certainly a summer feeling associated with the Wexford strawberry.
The June bearing strawberry grown here produces one large crop of fruit each month-long growing season, ripening depending on the amount of sun and rain exposure.
This meant that during the original short season, the south east had the advantage when strawberries first started to be grown here in 1939 during The Emergency.
An early industry saw farmers getting involved in producing for factories processing jam, with the overall appearance of the berry not being an important factor.
Almost three decades later, the Strawberry Fair began in Enniscorthy in 1967, which saw fruit producers and locals celebrate the year's harvest.
The annual fair saw family fun events and live entertainment, as well as the crowning of the Strawberry Queen, which also attracted tourists.
The volume of strawberries sold was the sign of success and the retailing of freshly picked strawberries took hold in the 1980s with young people often found their first job on strawberry farms.
The industry has seen huge changes, not just in labour practises, but with the extension of the season due to new technology.
Due to changing markets and consumer demands, strawberries are available all year round, fresh or frozen, but are often imported from far away places.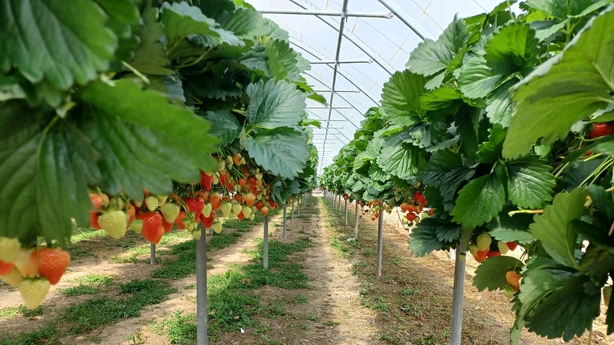 The end of an era
Now in Wexford, for the first time, the Strawberry festival will not take place this summer.
Instead, the festival has amalgamated with The Rockin' Food Festival, which first took place in 2014 with dance performances like jive and swing, as well as cooking demonstrations and tastings. The new festival, which runs in Enniscorthy throughout the bank holiday weekend, aims to bring the best elements of both events together.
Organisers said that the change came about due to the coronavirus pandemic, when they realised that there may no longer be room for two festivals.
Festival Chairman, Eric Barron, said that there is more to Wexford's offering than just strawberries, despite them being synonymous with the area.
"In the past the Strawberry Fair was very important as growers may only have had a two-week window to sell their crop but now with improved growing techniques, the season can run from very early summer to late autumn.
"The new festival will see that strawberry producers will be there to market their product, we intend to keep the tradition alive. This is still very much a celebration of our community."
The event also sees craft and food markets, dance classes, exhibitions, cooking demonstrations and workshops with chefs, artists and food producers.
We need your consent to load this rte-player contentWe use rte-player to manage extra content that can set cookies on your device and collect data about your activity. Please review their details and accept them to load the content.Manage Preferences
What growers think
John Green has been a strawberry farmer in Gorey, Co Wexford since 1987, and has a roadside farm with a seasonal retail element to it.
He said that with rising prices and concerns about labour, the survival of his business depends on consumer habits.
"The two years of Covid-19 were very good for business, as people remained at home and wanted to shop locally in an open-air environment but that's changing. I would worry about the future of not just Wexford strawberries, but strawberries growing anywhere."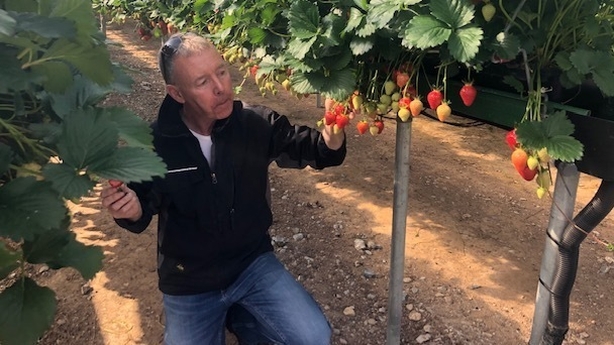 He said that the history of the strawberry is a positive thing to have associated with Wexford, with lots of people having memories associated with the Strawberry Fair, but that taste and quality is what keeps people coming back.
"It presents a very good image of Wexford, people do like to take pictures of strawberries to put them on social media, but nostalgia won't keep customers coming in on a regular basis."
Mr Green added that in his experience, supermarkets tend to just focus on low prices for strawberries which he said is detrimental for producers.
"If the consumer wants taste, they need to be concerned with the variety of strawberry they're buying as not all strawberries are the same. I'm not sure that anybody needs two punnets of strawberries for €5 anymore.
"It's a luxury that maybe the consumer doesn't have to buy every week and could pay a bit more for, maybe the business would survive then."
Cyril Wheelock has been a strawberry farmer in Finchogue, Enniscorthy, since 1990.
He said that the Wexford strawberry is a brand in its own right but businesses have had to adapt to changing consumer demands.
Having a self-catering holiday home at his farm and recently hosting a wedding on site, all visitors to have the opportunity to pick their own fruit.
He said that the original aim of the Strawberry Fair was to promote the crop and this is still vital.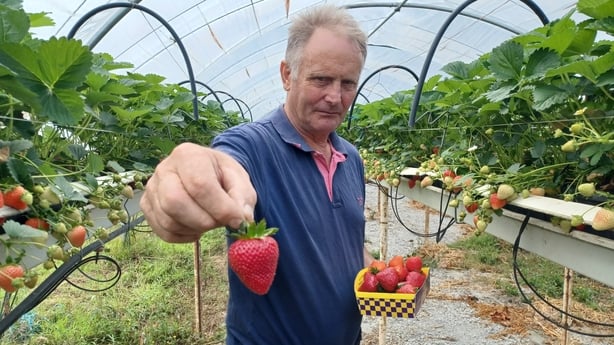 "At the height of strawberry producing in the county, there were 1,200 strawberry growers, but today there are less than two dozen. It's important we keep the legacy of the Wexford strawberry alive and I hope the new festival will do that."
For Mark Kavanagh, former strawberry seller and founder of new alcoholic drinks company Wexbury, he said that strawberry growers are expanding their offerings to compete.
He started a business selling strawberries on the roadside at the age of 13, but as every strawberry farmer is selling the same product, he found it generated a lot of waste.
Using the left-over berries to create an alcoholic punch as a way to preserve them, he never thought it would become commercial, but it took getting a distance away from Wexford to realise how special the strawberry is.
"Growing up here you don't appreciate it, but it only resonated with me later that we have something special in Wexford that is the envy of the rest of the country.
"The Rockin' Food and Fruit Festival is going to be a very big deal and although it's not what the Strawberry Fair was, it's great that food producers of all kinds have been incorporated as part of the new event, that's what people want."