"In 1950, the train was packed here. I think we went for one and six," laughed James A Corroon as he recalls getting the train from Killucan in Co Westmeath to Croke Park.
"Mayo defeated Louth that day," he said.
The train station in Killucan closed in 1963 after it was deemed no longer viable following a fall in population.
However, that has changed in recent years.
Killucan is located along the Dublin-to-Sligo rail line. Mullingar train station is 16km away, while Enfield is 26km away.
"On this road alone there used to be four farming families, now there's 35 families and that's just one road," explained Mr Corroon.
A campaign has been ongoing for more than 20 years to get the station reopened.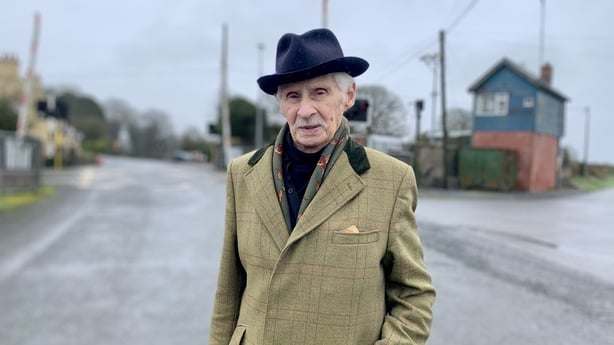 The group has carried out research that shows there is a population of 8,000 people within 5km of the station.
"There's between 16-18,000 people within 10km and there is the guts of 60,000 within 15km," explained Denis Leonard, who has been working on the campaign for over two decades.
"It's a no-brainer as far as we're concerned," said the Labour Party councillor, who is chairman of the campaign group.
"The population has increased around here by 300% in the last 20 years," he explained.
"Dromod in Co Leitrim has a population of around 500 people, and they have eight stops a day. We have 3,000 people in Kinnegad, 2,000 in Killucan and a massive hinterland yet they won't reopen the station," he said.
Over the years, the group said there has been endless commitments but nothing has come of them.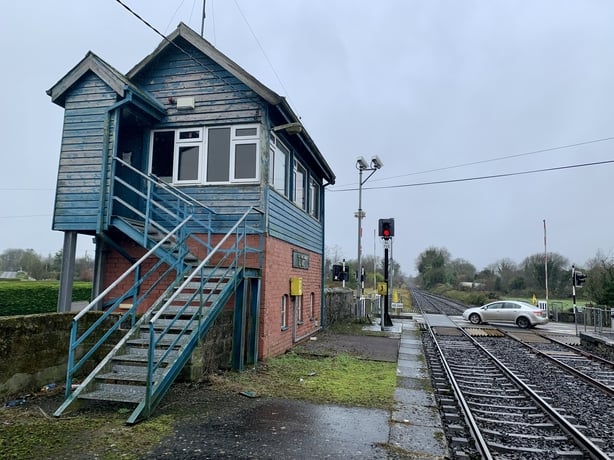 "We've been through four CEOs of Irish Rail and six ministers. We have supportive letters going back many many years, but nothing has happened," he explained.
The campaign group said there are environmental benefits to reopening the station.
"There's not a morning you won't hear the M4 mentioned on Morning Ireland's traffic reports, from Maynooth, Leixlip, Lucan, there's complete congestion," said Mr Leonard.
"It's obvious when you have an artery, it's a rail line, it runs from Sligo to Dublin, and it has a stop here for over 100 years," he added.
In the Government's National Development Plan, there is a commitment to spend twice as much in public transport as on roads.
"An investment of about €3m or €4m is needed and half of that can come from the BMW fund (Border, Midland and Western fund)," explained Mr Leonard.
For Sinead Scully, who has spent the last 16 years commuting to Dublin, the reopening of the station would have huge benefits.
Her house overlooks the station and when she is working from home, she watches the train go by several times a day.
"Before Covid I was driving to Ballsbridge. I was commuting four hours every day. You don't know what the traffic will be like and when you're in the car, you can't be productive," she explained.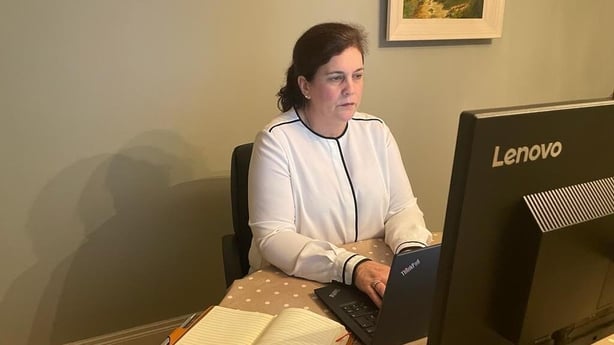 "If you are on the train at least you could steal a march on the day, you could clear your emails, you'd be far more productive," she said.
The commute has taken its toll and has caused her medical problems, which she says are down to being hunched over the wheel every day.
"It takes a toll on your family life, you come home tired. For all those years prior to Covid, I was gone every morning," she added.
"Can you imagine if you didn't have that constant stress?"
The train station is not far from the Royal Canal Greenway, which is attracting locals and tourists to the area.
Paula Cunningham runs the local pub and shop and said the place would benefit from the reopening of the station.
"It would flourish. We're on the Greenway and we're on the Famine Walk. People could get off the train and take their bikes or walk along it," she said.
This is just one of a number of campaigns to have train stations or train lines reopened around the country.
Brian Caulfield, an Associate Professor with the School of Engineering at Trinity College in Dublin and lecturer in sustainable transport, said this campaign is different to others.
"It's not like the Navan line; this does have a daily service that goes through it and the cost wouldn't be as much. If you look at Pelletstown in west Dublin for example, they had a train station opened up before Christmas and you could make a similar comparison," said Dr Caulfield.
"If you look at London or Stockholm, they would have small towns that are connected to the main network into the city to allow sustainable mobility," he added.
In a statement, Iarnród Éireann said it has engaged extensively with Westmeath County Council on the subject of Killucan Station.
It said subject to a positive outcome of any financial and economic business case undertaken by Westmeath County Council, it would in principle support the development of a two-platform station at Killucan.
"It will be necessary for the County Council to arrange for the production of the required business case as it is the authority with the responsibility for the land use and transport planning in the area," it continued.
The statement concluded that Iarnród Éireann would support the development of the business plan with access to any relevant information and technical expertise in the planning, design and operating of a station.