People gathered at Newgrange in Co Meath this morning for the Winter Solstice - the astronomical phenomenon that marks the shortest day and the longest night of the year.
Cloudy skies meant that the sun's rays did not illuminate the chamber of the 5,000-year-old passage tomb, which was closed to the public due to public health restrictions.
However, the Office of Public Works (OPW), in partnership with the National Monuments Services (NMS) of the Department of Housing, Local Government and Heritage, live-streamed proceedings via cameras located around the site.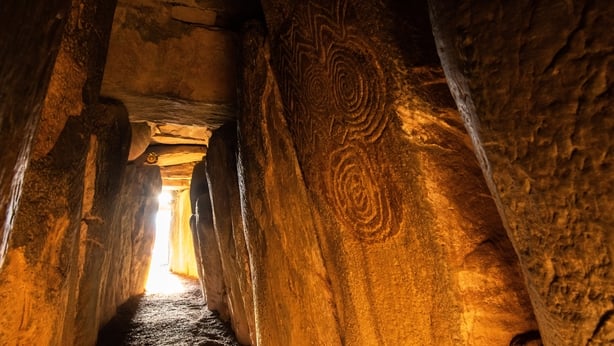 One of the co-hosts of the livestream, the OPW's Clare Tuffy, said: "I know we didn't have any sun, but I have to say I really enjoyed it. Part of the Newgrange experience is just being here.
"And it was fantastic to have people back here this year. I know people are a bit despondent heading into Christmas, but I felt there was a real sense of celebration.
"This time last year there was just a small livestream crew on site - nobody else. Everybody was watching online. And this year we are all out celebrating."
Ms Tuffy's livestream co-host, Dr Frank Prendergast from Technological University Dublin, agreed that the mood, if not the sky, had lightened at Newgrange this morning.
"The presence of people here just made the experience overwhelming," he said.
"When we were broadcasting to the world, we could hear the soundscape all around us. The happiness of people just being here was wonderful."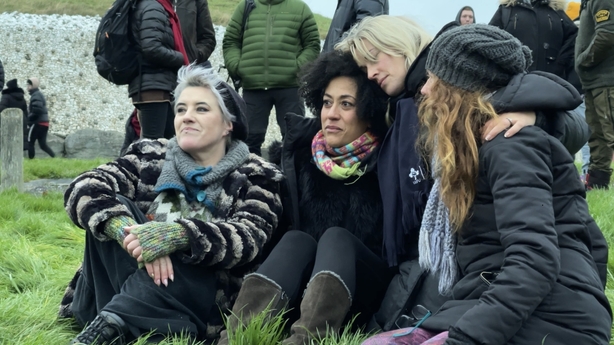 The solar alignment of the passage tomb at Newgrange to face the rising sun on winter solstice is a significant astronomical finding of global importance.
Originally re-discovered by Professor Michael J O'Kelly in 1967, other researchers have since then validated O'Kelly's interpretation, giving it scientific credibility, and meaning.
Analysis of high-resolution imagery taken during research carried out last year adds to the body of evidence that the solar illumination of the tomb was intentional.
We need your consent to load this rte-player contentWe use rte-player to manage extra content that can set cookies on your device and collect data about your activity. Please review their details and accept them to load the content.Manage Preferences

The Winter Solstice from Newgrange can be viewed live for a third and final time this year tomorrow morning on gov.ie/opw and heritageireland.ie.