The fastest woman in the world - Jamaican sprinter Elaine Thompson-Herah - is in Ireland at the moment for a flying visit, checking in with her renowned physical therapist.
The Realta sports clinic in Carlow has built up a reputation over the last 25 years for treating athletes - local, national and international - and Thompson-Herah is just the latest on an illustrious list.
During the summer, the Jamaican sprinter became the first woman ever to win the Olympic 100m and 200m double for a second time, having taken both golds in Rio in 2016, as well as relay gold too.
It's on her way to Monaco for next week's World Athletics awards that she's stopping over in Carlow for a check-over.
"He's a really nice guy to work with, and comfortable as well," she said today of Anthony 'Star' Geoghegan, who established Realta many years ago. "It's almost like he's part of the family now," she said.
"It's good to be in a different environment," she said of her latest trip to Carlow, although she is not a huge fan of the cold, particularly after travelling from her home region in the Caribbean.
"I love my kind of weather, tropical is very good you know ... [but] I'm good to experience some cold, nothing is wrong, amazing to dress up in big clothing."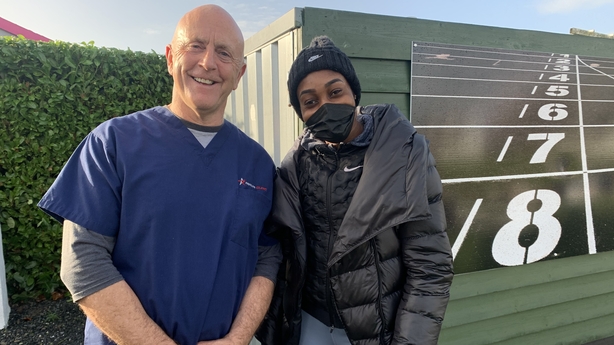 Speaking on her success on the track this summer, she described it as "surreal".
"It's unreal you know. As a girl I dreamed of making the Olympic team and it's come true twice, a five-time gold Olympic champion, this is an amazing feeling when you sit back and watch the work and struggles you had to put in to get there, you know.
"It is amazing to know that I can inspire younger generations."
Other sportspeople treated by Geoghegan over the years include former Jamaican sprinters Usain Bolt and Asafa Powell, NBA basketball star LeBron James, and All-Ireland winning hurler Richie Hogan, with the last few years really seeing the clinic's reputation on the rise.
"I've treated 15 Olympic champions over the last two Olympics. My job is body mechanics, so she's over for treatment to get her body checked out," he said.
"She was so close to breaking the world record this year in three or four races and we're just trying to get together and get our heads around how we can master that journey."
In the past he has worked with football teams, track and field athletes in the US and Jamaica, basketball teams, and in recent years golfers. The sprint champion is one of few runners he's currently involved with.
"Elaine reached out when she wanted some work done and I said I'd do it for her to get back into the athletics but it's a young person's game and me getting old and grey and bald, I just have to call it a day and work from home and that's why she's here."
She also left a message for any track rivals hoping she' begin to ease off soon.
"I am pretty young - next year I'll be 30, I think the peak for women is in their 30s and I'm just hoping to see what I have left in store.
"I think I have more."