The Managing Director of Glenisk says he is humbled by the support received since a fire gutted its organic yogurt manufacturing plant in Tullamore, Co Offaly.
Vincent Cleary said he is now focusing on getting the plant up and running again.
Firefighters were still at the site this afternoon as staff and management assessed the damage, while an investigation is continuing into yesterday's fire.
Emma Willis, Commercial Director, said Glenisk employs around 90 people, many of whom have been working there for 20 years.
She said the company is made up of two entities: the yogurt manufacturing plant, which was gutted by the fire, and the milk processing unit which was left unscathed.
Some milk supplies were delivered to the facility today and the company hopes it may be able to get milk on the supermarket shelves in the coming days.
Earlier, Mr Cleary said the future of the business is uncertain after the fire.
Speaking on RTÉ's Morning Ireland, Mr Cleary said the factory was "pretty much a burnt-out shell this morning".
He said "yesterday was a shock, during the night there was tears" but he said he would "regroup" with staff today and find a way forward.
Mr Cleary said: "By 10am this morning we will have a plan in place... we need to get back on the shelves as quickly as we possibly can."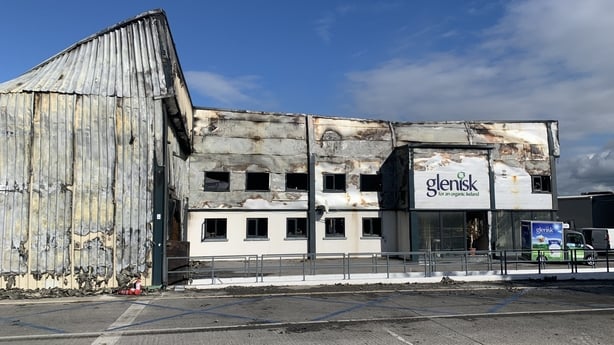 He said he had invited all line managers to come today, to make lists and start talking to fabricators and machine builders to get the company operational as soon as possible.
He said he is humbled by the support of his competitors, who have reached out to offer the use of their facilities.
Mr Cleary said there is no concern about the production of goats' milk and that tankers would still be collecting milk today.
He said "even if we have to take a financial hit by diverting elsewhere for the time being to make sure farmers aren't impacted unduly" the milk production will go on.
We need your consent to load this rte-player contentWe use rte-player to manage extra content that can set cookies on your device and collect data about your activity. Please review their details and accept them to load the content.Manage Preferences
---
Read more: 'Basically everything' destroyed in Glenisk factory fire
---
Mr Cleary said that the fire started in the yogurt production facility and spread quickly.
"We don't know 100% yet [what happened yet] but at around midday smoke was smelled and in what seemed like seconds fire started in the incubation room where our yogurt is made".
An alarm went off to evacuate the premises and while Mr Cleary said he initially thought it was a drill, "it was the real thing and our training saved a lot of lives yesterday".
The scene at @Glenisk this morning after fire destroyed the dairy company's manufacturing facility in Co Offaly @rtenews @Dyaneconnor pic.twitter.com/awlun6559H

— Paul Deighan (@PaulDeighano) September 28, 2021
The fire broke out at the factory at Killeigh, Tullamore, and all 50 staff were immediately evacuated.
Glenisk sources milk from approximately 50 organic dairy farmers across Ireland and it is the destination for 90% of organic milk.
The company has the number one position in the yogurt market in Ireland with a 19% share.
Laois farmer John Fitzpatrick is one of the suppliers to Glenisk.
He began supplying organic milk to the company in May with two deliveries a week.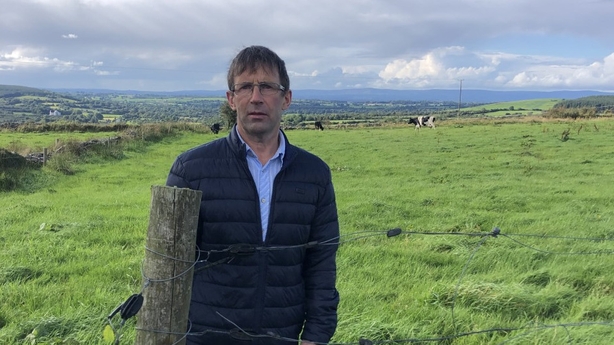 Mr Fitzpatrick, a member of the IFA organic project team, is worried about where his milk will go now.
"We need a new plant or a plant sourced and in this era of organic farming where organics is trying to go from 2% to 7.5%," he said. "If that doesn't happen it will be devastating for the industry."
He called on the Government to take action.
IFA Organic Project Team Chairman Nigel Renaghan said the fire in the Offaly plant is devastating for the Cleary family and the Glenisk brand.
"The fire could have disastrous consequences for organic milk suppliers. The facility handles the majority of organic milk across the island of Ireland," he said.
With reporting - Dyane Connor