Thousands of people living in parts of Co Meath have expressed frustration and anger after months of water disruption.
Residents in Enfield have reported 18 water outages since August while people in Trim, Longwood and Ballivor locals say they have been dealing with water discoloration and low pressure for months.
Like many parts of Ireland, capacity on the water system here has increased with more housing and the infrastructure needs investment.
Irish Water has said it has carried out works to improve the situation and further upgrade works will be completed by early next year.
For Anjali Miles, it has been a challenging few months. She is a mother of two young children, including a five-month-old boy.
"Obviously with a little baby it's a lot harder to cope when there's no water for basic things, washing their clothes, keeping them clean. It's a bit of a nightmare especially when you are going 24 hours without water sometimes," she explained.
Residents say the longest outage was last Sunday and the water only returned on Wednesday, which has led to growing anger and frustration.
"It's not a way to live or cope. We can't plan for it. We're calling relatives and friends in Maynooth and Kilcock and asking them if we can come down and shower. We're buying bottled water by the truck load but you can't bath a baby with a bottle of water in one arm, it's not possible," said Ms Miles.
More than 3,000 people live in Enfield. There are 500 new houses being built and they expect the population to rise to over 4,000 by 2027.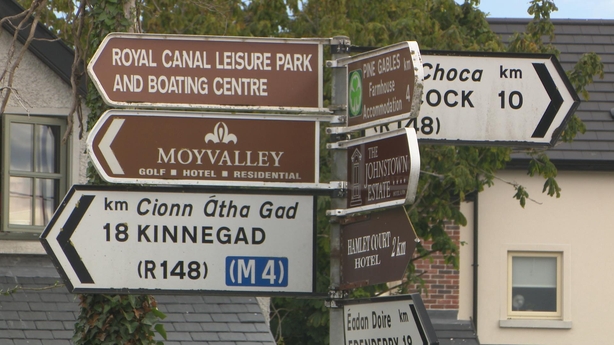 Joe Morris moved to Enfield 13 years ago and is concerned about the short-term plan.
"Enfield has changed from being the town you stop off for a bite to eat on the way to Galway to being its own little hub. With the increasing demand, it's getting a lot worse. We've had statements from Irish Water about the long-term plan for right now, it just seems like they're trying to band-aid things."
Many residents have reported problems with electrical appliances like showers, dishwashers and washing machines because of the water disruption.
Ivan Yallop lives in Enfield and works as a care assistant in Kinnegad. He said there had been mornings where he cannot shower before going to work.
"Cleanliness is a big part of our job. There are mornings I get up and there's no water. Sometimes I go to work and shower. And I've also used my camper van outside to shave. It's really bad," he said.
Businesses have also been impacted, such as the Black Dog Coffee shop on Main Street. Clodagh Brady is busy serving customers, however she explains that she has had to close multiple times because of no water.
"You could turn up for work on a Monday morning and have no water. You have customers who want their coffee and you can't serve them and we're losing revenue. I can't run a business like this," she said.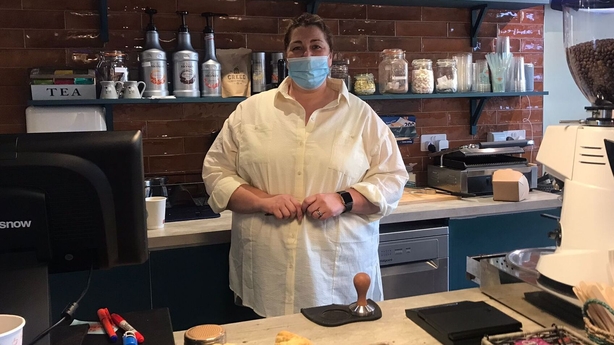 Nearby at Nomad Coffee Bar, it is a similar story. Seán Hurley opened up four months ago and is working hard to build his business.
"The staff come in at 5.30am and they're just hoping there's water when they come in. It might go and come back during the day. We have to send staff home sometimes and we're losing business because of it," he said.
For Andrea Donoghue, who runs Devine Hair and Beauty, water is essential. After closures due to Covid-19, she is trying to get the business back on its feet.
"I need water to wash hair and to wash out colours. If I don't have water, I can't work. I can't pay staff and I can't pay rent. I live here as well as owning a business. I've three kids and trying to get uniforms washed, it's impossible" she explains.
Meath West TD and Aontú Leader Peader Tóibín organised a demonstration last weekend to highlight the issues.
"There needs to be proper investment. We need a reservoir for clean water for these towns as soon as possible. We're not talking about three or four or five years, we're talking about now," he said.
Irish Water said it is working on upgrading the infrastructure. It has recently completed essential disinfection upgrades to protect water quality at the water treatment plant. New pumps have been installed and additional monitoring equipment and controls are being installed. This work is expected to be carried out in early 2022.
On the unplanned nature of some of the outages, Irish Water said they have been caused by mechanical issues at the plant or by automatic plant shutdowns that serve to protect water quality.
On the long-term plan, Irish Water said it has plans to build treated drinking water reservoirs in Enfield and they are in the early planning phase.
While the issues are addressed, the company warned that there may be further works required over the coming weeks that may lead to supply disruptions.
Irish Water has said it is working with Meath County Council to build a new treated water reservoir in Enfield by 2022.
A timeline on the project expected in the coming week.
It said it is also working to deliver new reservoirs in Longwood and Ballivor in 2022 and 2023.
The company said it understands the impact that recent supply disruptions have had on homes and businesses in Meath and it is carrying out additional works to safeguard the local supply.