A project to rewet a bog in Wicklow is expected to increase water quality and storage for areas supplied by the River Liffey.
The work on the Liffey Head bog will also capture carbon and help biodiversity. It is a joint venture by the National Parks and Wildlife Service and Intel.
The Liffey Head Bog covers thousands of acres in the Wicklow National Park.
The river which flows through the capital rises there and draws much of its water from the surrounding bog, but that peatland has been degraded through years of drainage, turf cutting and fires.
Degraded bogland cannot store as much water and is vulnerable to erosion from heavy rain; the runoff carries peat into the water supply causing challenges and extra expense at water treatment plants.
The damaged bog is also a source of the greenhouse gas carbon dioxide and is more vulnerable to fires in times of drought.
A joint venture by the National Parks and Wildlife Service and Intel Ireland is going to rewet 60 hectares of the Liffey Head Bog. The NPWS, which is providing the expertise, estimates that will increase the water storage capacity of that section of bog by between 50 and 90 million litres of water.
The water quality in the Liffey catchment area will also improve as this will protect against erosion.
Rewetting damaged bog also turns it from a source of carbon into a carbon sink.
Shane Regan, Eco Hydrologist with the NPWS, says it takes a rewetted bog five to ten years to start storing or sequestering carbon and when it does it takes in about two tonnes of carbon per hectare every year.
Microchip manufacturer Intel needs millions of litres of water for its plant near the Liffey at Leixlip.
It recycles and returns the vast majority of that water and it is funding the rewetting project as part of its target to reach net positive water by 2030.
External Affairs Manager Lisa Harlow told RTÉ News it is not just about returning the water, saying: "There's other good benefits as well, such as the carbon sequestering and also the return of biodiversity in the area, so I'll be very excited to see if the spaghnum returns again."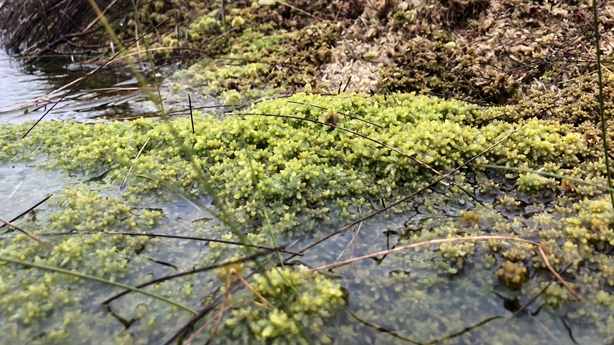 Spaghnum is type of moss that grows on healthy bogs. It needs to live in water and can re-establish on rewetted bogs. When it does, it helps to keep the bog wet as it can hold up to 20 times its own weight in water.
It also filters the water and absorbs and stores carbon dioxide. Thousands of tiny, microscopic plants and animals live in spaghnum mosses, making the tiny plant a massive contributor to biodiversity.
Mr Regan says blocking drains will be just one of the measures needed to rewet this section of bog. The NWPS will also have to lay down mats to help the vegetation re-establish on the badly eroded areas.
Minister of State for Heritage Malcolm Noonan says there are number of rewetting projects happening around the country and this joint venture with Intel is an example of how companies who have commitments around water conservation can get involved.
He added there are many benefits from restoring bogs, including water quality and flood prevention.
There is estimated to be around 4,000 acres of degraded blanket bog in the Wicklow National Park alone, leaving plenty of opportunity for other restoration projects.
Indicative data on the benefits of this project should be available from next year.