Residents of nursing homes across Co Wexford are in for a treat next week when the Mobile Music Machine featuring some of Ireland's top musicians will continue their series of concerts in the area.
The Covid Care Concerts have already taken place in more than 350 hospital and care settings since last May, including today, with another 250 such events planned for the coming months.
At a time when live music is all but a memory, the concerts are a source of delight and diversion for the patients and residents of the hospitals, care homes and nursing homes involved, and a source of some employment for up to 80 musicians and singers who are otherwise without an audience.
Members of the Mobile Music Machine performing at the Havenview residential centre in Enniscorthy pic.twitter.com/Z4CVIKm1hb

— Conor Kane (@ConorKane0909) April 2, 2021
The series was the brainchild of leading cellist Gerald Peregrine.
"I was sitting at home for two months when lockdown occurred," he told RTÉ News. "I didn't play my cello and was trying to figure out what was going on, like the rest of the world, and my neighbours asked me would I give a little concert around May to lift their spirits.
"So then our friends in the Blackwater Opera Festival and Creative Ireland we were able to turn that into a regular series, starting in Waterford and then Wexford and then the rest of the country and we're working now with the likes of the HSE and Age Friendly Ireland and Healthy Ireland as part of the Keep Well campaign," he said.
"Since June we've been travelling the highways and the byways to perform concerts in hospitals and residential care homes... It's been a really wonderful experience for us musicians and for the listeners and hopefully been able to provide a sense of normalcy during these difficult times," he said.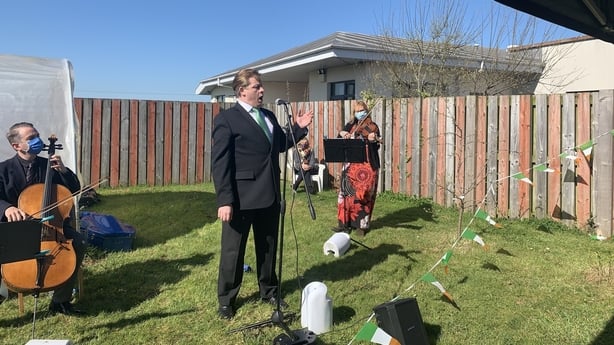 Today's concerts took place in the Havenview Residential Unit in Enniscorthy, run by the HSE's Waterford-Wexford Mental Health Services, as well as units in Oylgate and Ardamine in Co Wexford.
Performers included sopranos Kelli-Ann Masterson and Sandra Oman, tenor Anthony Kearns, as well as Linda O'Connor on violin, Beth McNinch on viola and Gerald Peregrine on cello.
Music featured can take in anything from Bach to Neil Diamond, Vivaldi to sean nós, Abba to Vera Lynn.
The concert series is funded by the HSE in partnership with Creative Ireland, Age Friendly Ireland and the Blackwater Valley Opera Festival.
"We all know the power of music and residents here have been under increased restrictions over the past year and they're also among those at most risk from Covid-19, so to be able to have musicians of this calibre here is quite significant for us," Dr Denise Rogers, senior clinical psychologist with the Waterford-Wexford Mental Health Services said.
"And also I suppose it's our effort to narrow the participation gap because often they're individuals who wouldn't get a chance to engage or access this calibre of music, so it's a wonderful opportunity for us to develop our provision of participatory arts into live performance."
Consultant psychiatrist Dr Ray Goggins said "it's been fantastic" and "a bit of light and positivity" for the residents.
"Hopefully, we'll be able to do more of these concerts into the future, but for them it's been priceless because most people here never would have gone to a concert. All of us over the last year have been bereft of live entertainment but for the lads here they may never have gone to a concert at any stage of their life, so this has been really exciting for them."