The funeral has taken place in Dundalk, Co Louth, of Bagatelle frontman Liam Reilly, who died on New Year's Day aged 65.
Due to current Covid-19 restrictions, only immediate family were able to attend the funeral, but mourners lined the route from his home on Avenue Road and there was a round of applause as his coffin was brought into St Joseph's Redemptorist Church.
A piano accordion was placed at the altar to represent his life and love of music, along with some sheet music and his signature black hat.
Fr Noel Kehoe said Mr Reilly was "a much loved son, brother, uncle and a friend to many".
"He was an icon, decent, good, kind, witty and remarkably talented" he said, adding that he was a wonderful storyteller and his lyrics gave a voice to people.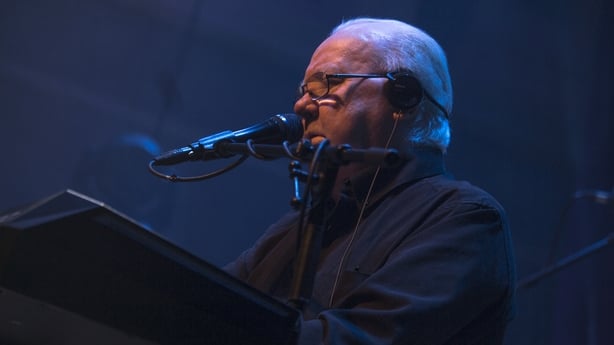 "His songs touched people and resonated with them and they lifted them. His genius really captured the experience of emigration" Fr Kehoe said.
He told of how Mr Reilly lived in the United States and how he had witnessed his generation leave Ireland in search of work.
Fr Kehoe said he had been contacted by the Vice-President of the NYPD Emerald Society, Glenn Lynch, in recent days, to express his condolences and who said the 'Streets of New York', written by Mr Reilly, is as close to an official anthem of the NYPD.
Fr Kehoe explained how Mr Reilly was "destined to dedicate his life to music" and how he was given a harmonica as a child.
"The rest is history" he said.
Mr Reilly was part of the Gaelic league and won medals and trophies for his piano accordion playing and for Irish dancing.
His sudden death had stunned many people, said Fr Kehoe.
Mr Reilly's sister Evelyn said her family is heartbroken by his passing but they would remember the good times.
Bagatelle's song 'Johnny set 'em up' was played at the end of the mass.