The family of a 20-year-old man killed in a road crash on the Cavan/Meath border over three years ago say they feel let down by the justice system.
Pete Rogers of Ballinaclieve, Moynalty, Kells, Co Meath, was today spared jail for careless driving causing the death of his friend Cormac Murphy in May 2017.
The 21-year-old had pleaded guilty to the charge.
Today at Cavan Circuit Court he was sentenced to 240 hours' community service in lieu of 12 months in prison and disqualified from driving for eight years.
Last week, the court heard how Rogers was the driver of a black Volkswagen Passat when it crashed near Mullagh village in the early hours of 14 May 2017.
There were six people in the car when it left the road at Rantavan shortly after 5.20am.
The friends, all aged between 18 and 22, had been travelling from a nightclub in Kells when the car lost control and entered a field, coming to a stop in a drain.
The court heard that none of the four rear seat passengers were wearing seatbelts at the time of the crash.
Only Rogers and the front seat passenger were found to be wearing seatbelts.
All of the occupants suffered serious injuries.
Cormac Murphy, who was 20 years old, from Cloughbally Upper, Mullagh died five days later in hospital.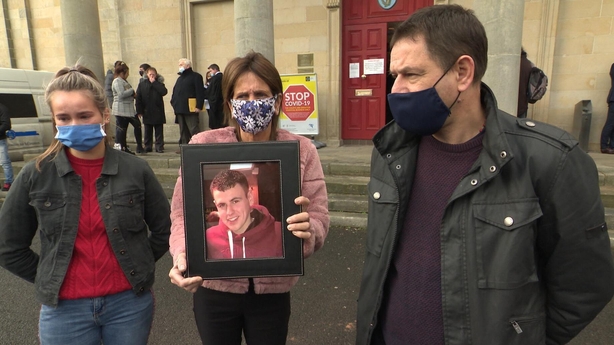 Sergeant Cein O'Brien, a forensic collision investigator, examined the crash scene.
He told the court that Rogers' car had crossed over on to the wrong side of the road before striking the grass verge and passed through a fence when it struck a telephone pole.
The car finally came to a stop when it entered a 3m drain, the court heard.
The garda noted that there was no way of knowing just how fast Rogers was driving prior to the crash, but he concluded that Rogers failed to properly navigate the bend in the road and there was no evidence he tried to brake to bring the car to a stop at any stage.
A toxicology report from the hospital found that Rogers had low levels of alcohol in his system, but Sergeant Barry Crudden pointed out that those parameters used to measure are different to those used by gardaí.
We need your consent to load this rte-player contentWe use rte-player to manage extra content that can set cookies on your device and collect data about your activity. Please review their details and accept them to load the content.Manage Preferences
In handing down sentence today, Judge John Aylmer said the primary responsibility of wearing a seatbelt lies with the driver.
He said the most culpable factor was the fact Rogers was the driver and his passengers were not wearing seatbelts.
He also noted that there was not sufficient evidence for the Director of Public Prosections to secure a conviction for dangerous driving, hence the amended charge of careless driving causing death.
The judge said the offence was on the upper end of the scale.
In mitigation, Judge John Aylmer said Rogers was of good character, he had never been in trouble before or since, had cooperated fully with the investigation and had pleaded guilty.
He said Rogers had shown a deep sense of remorse and he will find it difficult to live with the guilt of what happened.
He said in this case a prison sentence was not appropriate and Rogers was suitable for community service, in lieu of 12 months in prison.
He handed him down 240 hours' community service and disqualified him from driving for eight years.
Members of both the Murphy and Rogers families were present in court today.
Afterwards Cormac's parents, Bernie and Fergus Murphy, expressed their disappointment with the sentence handed down.
"We feel very let down by the courts. We feel very let down," Mr Murphy said.
"This is our fourth year without Cormac, our fourth Christmas without Cormac and this is what we are told today.
"He got 240 hours' community service for killing our son. Where is the justice in that?" asked Ms Murphy.