A memorial has been unveiled in Kilkenny to remember Thomas Joseph Woodgate, one of the youngest military casualties of World War I.
The monument is the latest of a number commissioned and organised by the Kilkenny War Memorial Group, remembering people from the area who died in the conflict between 1914-1918.
Thomas was from Callan in Co Kilkenny, the son of Edward and Hanora Woodgate of Mill Street, and until recently it was assumed that he was 18 when he signed up to the Royal Air Force in late 1918.
He died on board RMS Leinster on 10 October 1918, when it was torpedoed by a German submarine close to the Kish Lighthouse while on its way to Holyhead.
Altogether, 501 lives were lost in that incident, which occurred just a month before the end of the war.
In recent years, while research was being carried out into the hundreds of people from the Kilkenny area who died during that war, it was discovered that Thomas was actually 14 when he was killed.
He had said he was 18 in order to join the RAF.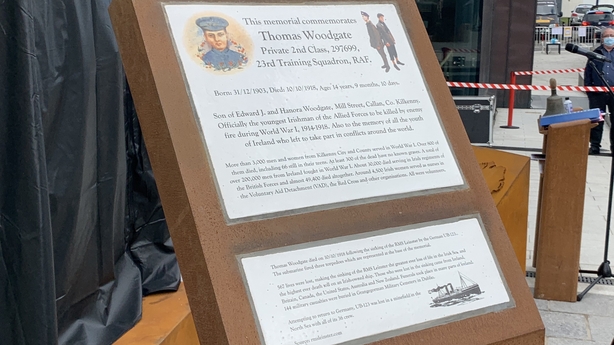 "We're very proud of Thomas but a bit sad that he was just 14 when he died," his grand-niece Joan Bryan said today.
"The family thought he was 18 but then we found out he was 14. He was born on 31 December 1903 and Christened on the same day.
"He's buried in Grangegorman military cemetery in Dublin. We have been up there and there's a new stone there now with 14 on it."
Thomas' closest living relative is Gary Woodgate, a nephew now aged 84, who was also present at the unveiling ceremony in the city.
"He was very, very young. He was only 14-and-a-half but he looked bigger and that's how he got into it. An awful lot of them have gone since, a lot of them did die," he said.
"We have something to remember him by anyway."
Among those attending the ceremony were Minister of State Malcolm Noonan, Cathaoirleach of Kilkenny County Council Andrew McGuinness, Bishop of Ossory Dermot Farrell and Dr Richard Marsh of St Canice's Cathedral, as well as members of the War Memorial Group including John-Joe Cullen and chairman Dónal Croghan.
"In our research for the memorials here in Kilkenny, we came across how young he was and we confirmed his age with the Commonwealth War Graves Commission. We felt we should commemorate him as part of the work we do," Mr Croghan said.
"I think as a country, we have matured. First of all these were Kilkenny men, or boys in this case.
"They were Irishmen and they happened to put on a different uniform. They were written out of history so that's why it's important to remember them."