The Sea-Fisheries Protection Authority has seized up to 700 illegally caught lobsters in Co Wexford.
Sea-Fisheries Protection Officers from Dunmore East detained a vivier lorry in Rosslare that was carrying around 6,000 lobsters.
The lorry, which was travelling to Spain, had around 630 undersized lobsters and almost 60 v-notched lobsters on board.
The illegally caught lobsters have since been returned to the sea alive.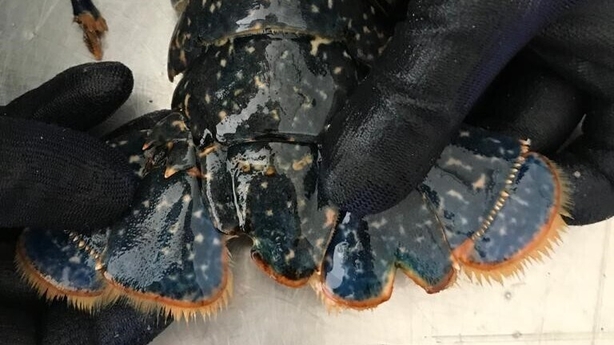 Lobsters must be a minimum size of 87mm and maximum of 127mm when caught and any lobsters with a v-notch must be returned to the sea.
A v-notch (pictured above) is put on a lobster to indicate it is a female. It is a conservation method and means that those lobsters must be returned to the sea to breed and increase stock levels.
SFPA believes some of the lobsters may have been caught in Northern Ireland.
Chair of SFPA Dr Susan Steele said the volume of the seizure is "both significant for the future viability of the fishery and concerning given the scale of the find".
She said: "The fishery for lobster is one of the most traditional fisheries among coastal communities and the mainstay of many small vessels fishing all around the coast of Ireland.
"The actions of a few fishermen selling undersize and v-notch lobsters undermine the legitimate fishermen trying to maintain a sustainable fishery and livelihood."
Dr Steele added: "The majority of inshore fishermen act responsibly and in conjunction with state agencies, including the SFPA, to ensure the protection of the species which have been in decline in recent years.
"Many inshore fishermen participate in voluntary measures such as v-notching to assist with restocking of lobster."
SFPA is preparing a file for the Director of Public Prosecutions.
Earlier in the week, SFPA seized 86 lobsters from a recreational fisher.
Under the Non-Commercial Pot Fishing (Lobster and Crab) Regulations 2016 Act, recreational fishers are only allowed to catch one lobster per day and are prohibited from selling their catch.