The road to GAA glory can be a bumpy one, the path to prominence during a pandemic even more so, but an Offaly GAA club has discovered the road less travelled can reap its own rewards.
Members of Daingean GAA club have been traversing the by-roads and boreens to Little Island bog, in a return to simpler times to help the older and more vulnerable members of their community.
As part of the public health emergency measures, they had been doing shopping runs and trips to the local pharmacy for some local people.
Now, they're turning and footing turf on bogs on the outskirts of town, helping those who have been doing this traditional chore for decades themselves but who have been unable to get out lately.
Furthermore, they have also come to the aid of some frontline workers who are understandably tight for time.
"We wanted to give something back to the community, particularly older people and the more vulnerable in the community," explained club secretary Vickie Keating.
"We kinda sat down and said what can we do to help, we were already doing shopping, pharmacy runs and things like that so we said we wanted to do a little bit more for people.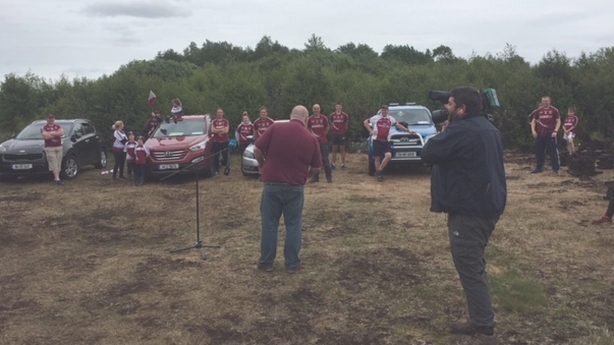 "And as you know we are in the midlands and turf is big business down here, so we said let's go and see what the people of the community need support with their turf this year.
"It's more difficult for them to get out with everything going on," she added.
Motivator in chief is Sammy Keating, club chairman, who has managed to rope in practically all 300 members of the club and get them out on the bog.
"We will probably get another two or three weekends out of it. They mightn't be as keen to help out after you know another day or two on the bog, but at the minute we are all really happy to help out," he said.
And the demand for their services has soared in the wake of a video that appeared on social media, showing players, mentors and supporters kitted out in their maroon jerseys, turning turf.
What started out as a short-term fix has morphed into a grander affair, with Daingean people abroad - from as far away as Australia - getting in touch to ask for assistance for older family members and save the turf on the family plots.
We need your consent to load this Facebook contentWe use Facebook to manage extra content that can set cookies on your device and collect data about your activity. Please review their details and accept them to load the content.Manage Preferences
"Getting up everyday and looking at YouTube video hits going up and up and up - our posts on social media hit 21,000," revealed Vickie.
"We've never ever seen anything like that on social media, so it's good to get Daingean out there and the club out there and show the good that goes on behind the scenes. It's not just about football, it's about helping your community.
"We need to be famous for something in Daingean, it's not football in the last few years. We want to get ourselves out there," she laughed.
The club is currently in the junior football ranks but with no games and no training sessions on the horizon for the foreseeable future, the bog is where it is at for team bonding - not to mention fitness.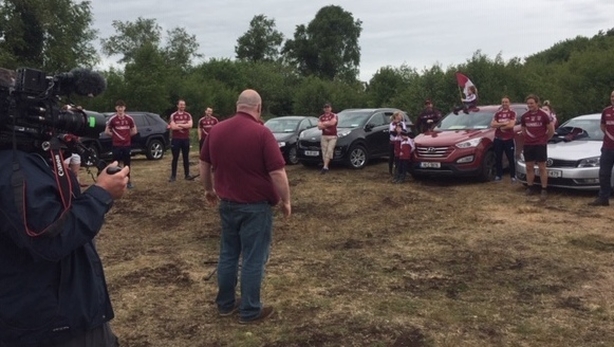 "When they get going they'll be in some shape by the time we get onto a football field," chuckled Sammy.
Surrounded by bogland, Daingean knows only too well the importance of the bog to the psyche of local people - and they know how crucial this summer ritual is to them.
"We done one bank of turf a couple of weeks ago for a man, I think he was 84 - we had to leave some of it," said Sammy.
"We had to leave a couple of rows, the boys tore into it and did it all but we had to leave a couple of rows 'cos he wanted to come up and do it himself.
"He's 84 years of age - he still wanted to do one or two rows, just to say he was on the bog .
"He spent all his life on it, he's grown up on it, he worked in Bord na Móna so it's part of his DNA and we were glad to do it and he was glad to tell us what we did wrong!"
We need your consent to load this rte-player contentWe use rte-player to manage extra content that can set cookies on your device and collect data about your activity. Please review their details and accept them to load the content.Manage Preferences