Appeals have been made to the public not to start fires in exposed natural settings, after extensive damage was caused by blazes in a number of mountainous areas in recent days.
It's illegal to set vegetation fires at this time of year and the Government has warned that anyone found doing so can be prosecuted.
At least six gorse fires have been recorded by the National Park and Wildlife Service (NPWS) in the Wicklow Uplands since late March, most of them within the designated National Park.
The latest of which was brought under control yesterday evening between the Wicklow Gap and Ballyknockan in the west of the county and involved the fire service, NPWS, the Air Corps, the gardaí, but not before it damaged hundreds of hectares and wiped out many habitats and other flora and fauna.
Another fire on the Blackstairs Mountains in Co Carlow needed several units of the fire service in the south-east to bring it under control, across a number of hours yesterday.
The fires have caused anger among service members who say that they are putting strain on resources which may be needed in the ongoing Covid-19 crisis, as well as damaging wildlife and posing a risk to human health as well as waterways.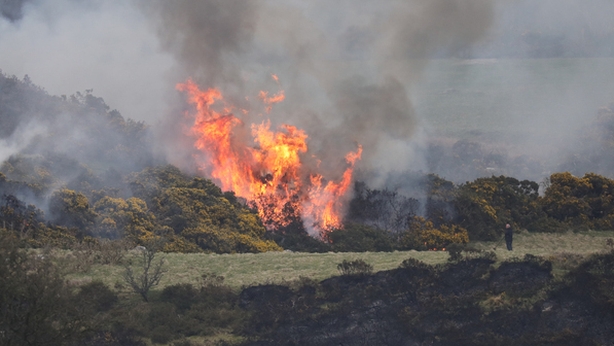 "These habitats are upland blanket bog habitats, wet heath and dry heath, and they're very important habitats in a European context," said National Park and Wildlife Service divisional manager Wesley Atkinson.
"The effects are devastating… That area has just been erased of life for the foreseeable future.
"We've lost vegetation, we've lost animals, small animals that can't outrun the fire obviously perished, invertebrates, small reptiles like lizards, amphibious things like that. Then the larger ones, birds, can move, but the habitat is gone, there's nowhere to breed."
He also pointed out that the blanket bog is an important carbon store, and this has also been damaged.
Earlier, chief fire officer for Co Wicklow, Aidan Dempsey, appealed to the public to desist from starting fires.
"They are an annual event, unfortunately, but in this year with the pandemic and the restrictions that are being placed on the public and our own firefighters, it's very frustrating to be drawn here into the mountains to have to do work that is, in effect, unnecessary."
Farmers are allowed to burn lands at certain times, but it is not permitted at present.
Anyone found setting fires can be prosecuted under the Wildlife Act, and both the Department of Agriculture and the National Parks and Wildlife Service have both appealed to people not to set fires.
Additional reporting: Fran McNulty