The Minister for Agriculture has urged the parties involved in the current dispute over beef prices to meet to discuss their differences.
Michael Creed made the comments as the Beef Plan Movement said up to 4,000 people picketed on a rota basis outside around 20 beef factories.
There have been calls for Minister Creed himself to get involved in the dispute.
The protesters, who are mounting pickets in an attempt to get better prices for their beef, say their protest will continue indefinitely.
An organisation representing meat factories said that up to nine sites were not operational today due to the protests, while other plants were only operating at minimal levels.
Meat Industry Ireland said the actions of some protesters goes "well beyond" guidelines issued by the Beef Plan Movement and is resulting in "unacceptable abuse and intimidation" of farmers, suppliers and employees.
MII called for the Beef Plan leadership to abandon their "illegal blockades".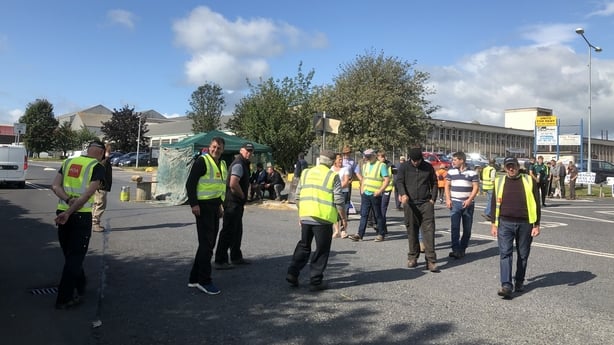 Gardaí are maintaining a presence at some of the properties, including the Dawn Meats plant at Grannagh in south Kilkenny, to ensure no trouble breaks out.
About 50 protesters outside the Grannagh plant said they will start to prevent other livestock trucks, such as those carrying pigs, from entering the area.
A large number of trucks, cars and other vehicles were parked along the side of the N25 as the stand-off continued.
The picketers say their protest is a peaceful one and that they are taking this action to protect their livelihoods as beef farmers.
Meat Industry Ireland says it will only engage in talks if the pickets are lifted.
We need your consent to load this rte-player contentWe use rte-player to manage extra content that can set cookies on your device and collect data about your activity. Please review their details and accept them to load the content.Manage Preferences
Carrickshock-based farmer Jimmy O'Shea said farmers would not be protesting if they did not feel they had to do so.
"People are not prepared to take it any more," he said.
"They're out in force. It's bigger and bigger this is getting. Last week we were here [Grannagh] and there was only ten people here. Today there's over 50 here."
IFA treasurer Tim Cullinan called on Minister Creed to get involved in the dispute.
"By refusing to take his responsibilities seriously, the minister is making himself irrelevant. If he cannot, or will not, do the job he was elected to do then the time is rapidly approaching for him to consider his position", Mr Cullinan said.
A number of vehicles attempting to deliver cattle to the APB Meat plant in Bandon, Co Cork were prevented from entering the site by farmers protesting at the entrance.
According to Helen O'Sullivan of the Beef Plan Movement, these included a double-decker truck, three lorries, one tractor and trailer, as well as two 4x4s with trailers.
The farmer says the mood at "the peaceful protest" is upbeat with farmers from Cork and Kerry "here for the long haul".
Ms O'Sullivan says farmers do not want to be protesting 24 hours a day, but they have no choice.
She called on Minister Creed to meet members of the movement. "All we are looking for is the cost of production and a slight margin," she said.
Ms O'Sullivan, from Bantry, is among a number of farmers who are also sleeping overnight outside the plant on the Macroom Road as the protest enters its second week.
Additional reporting Jennie O'Sullivan