An investigation has been launched into an illegal dump in a Co Meath forest.
Coillte says the illegal dump, which was discovered last week, is the single biggest incident of its kind that it has ever dealt with.
Gardaí in Nobber in Co Meath have launched an investigation into the incident.
The State-owned forestry company says over 600 tonnes of domestic and industrial waste was found in the large pile in Drumgill Forest in the north of the county, close to the Co Cavan border.
Coillte says it equates to around 30 articulated lorry loads and it was dumped over a number of days recently.
The discovery was made on Tuesday of last week by a member of the public who was out walking in the isolated area near Kingscourt.
Coillte has spent over €2 million in disposing of illegally dumped waste over the last five years.
The agency says this latest clean-up operation will be difficult and could cost up to €100,000, as the waste will have to be examined for hazardous material.
The process will be carried out in conjunction with Meath County Council.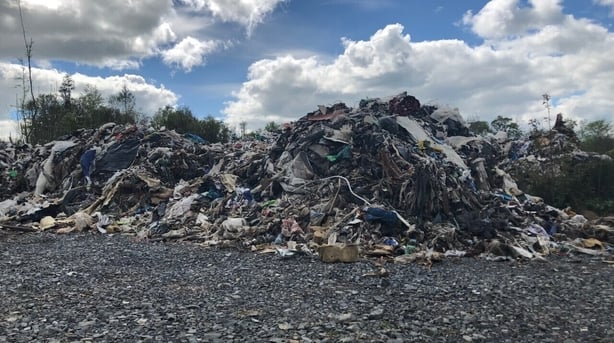 Conor English, the Coillte Midlands Estates Manager, says this is "the single biggest incident Coillte has ever dealt with" and he says the discovery is "as bad as it gets."
Along with the visual and financial impact, illegal dumping can cause serious damage to the local environment.
Mr English says the agency is most worried about "the damage to the flora and fauna, the animals and plants and the water sources" in the area and the wider "environmental impact" it will have.
Gardaí are liaising with Meath County Council and Coillte following the discovery of the waste.
Anyone with information about the dumping of the material is being asked to contact Coillte's confidential forest security phone line on 1890 800 455.