A mural depicting the 11 founding members of the European Union is nearing completion in Bray, Co Wicklow.
The mural, painted by Kerry born artist Denis Buckley at the Mermaid County Wicklow Arts Centre, marks the UK's decision to leave the EU.
Once completed, the artist will then systematically paint out the mural, returning the wall to its original colour by 11pm tomorrow, to coincide with the original Brexit deadline.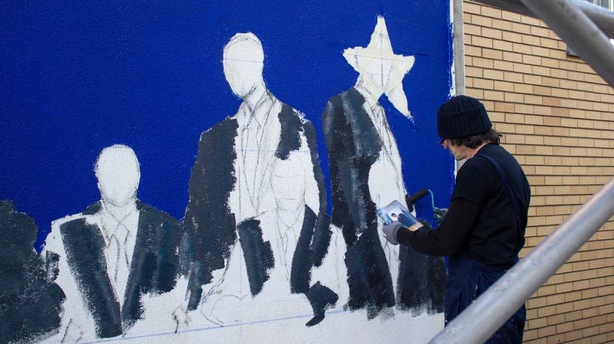 The Mermaid says the mural, 'The Erased Heads of Europe', "seeks, from its unique viewpoint in the centre of a town on the Irish Coast, to remind the country opposite of the capacity of history to illustrate that all great epochs eventually succumb to erosion".
It depicts the 11 founder members of what is now the EU, one of whom was Winston Churchill, in suits and ties of their day with the 12 starred European standard above and behind.