"This idea of travelling to Europe and having a purpose to life, they saw it as a real adventure with a purpose," is how Brian Meyer describes the actions of three of his relatives who all served in World War I.
Originally from Bray, Co Wicklow, Ernest, Frank and Arthur Meyer were three of seven siblings. Their family, according to Brian, their distant cousin, were very much part of the Bray community and were well respected.
"They were brought up in Bray and went to school here in St Andrew's School and St Paul's School in Bray … Their Dad was the founder of the Bray choral society and the family all sang in the local choir, in the church choir."
The Meyer family had a shop on the main street in the Co Wicklow town, but when the business failed they then moved to Winnipeg in Canada.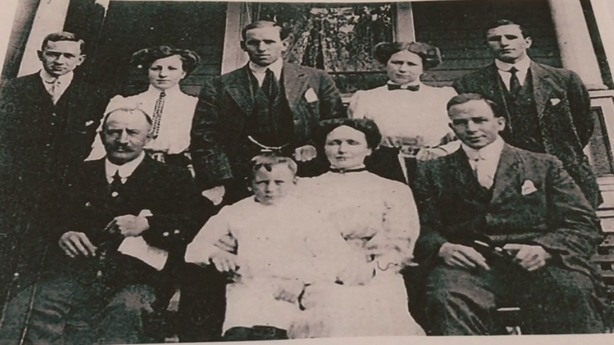 When the Meyer family arrived in Canada, Frank and Arthur joined the 90th Winnipeg Rifles reserve.
Brian says that Frank and Arthur joined in 1910, and Ernest joined in 1911.
"So they presumably went to weekly meetings in the drill hall and it was part of their life in Winnipeg," he said.
In August 1914, after war was declared, Frank and Arthur were in camp training with the Canadian expeditionary force for potential service in Europe.
Ernest at this stage had not joined, as he was married and the father of two young children.
Brian says that he learned more and more about the Meyer brothers' story when visiting relatives in Canada in recent years. While in Vancouver, he discovered letters that were sent from the Meyer brothers on the frontline to their family in Winnipeg.
"Well it's my experience that the authorities in most families seem to be great aunts who are magpies in terms of collecting memorabilia in shoe boxes and things underneath the bed and whatever," Brian said.
"And when I went to Canada, I found in Vancouver that stuff had come down through the family, which included all the letters the boys had written home to their mother in Winnipeg in their own handwriting. And that really grabbed me."
How one Dublin man will be remembering his relatives on Armistice Day. #Armistice100 pic.twitter.com/cM1aNursxm

— RTÉ News (@rtenews) November 10, 2018
Brian says that the letters contained details about the conditions the brothers endured while at war, but also a great sense of adventure that was embraced by them at the beginning of it.
"They didn't see it as a sacrifice at the beginning, because it was a big adventure and Frank describes how it was getting away from the desk and the Winnipeg grain exchange.
"It was only later when they realised the war was going to last after Christmas and four years later they were still fighting, you really get that sense of adventure in the early days.
"In some of the later letters, it was almost fatalistic; 'Well if I don't get back, I've still done something worthwhile.'"
In April 1915, during the second battle of Ypres, Arthur was reported missing in action and presumed dead on the 25th. He was 22-years-old.
Frank was captured during the same battle and was taken a Prisoner of War on 23 April. According to Meyer family archives and transcripts of his diary, Frank ended up in a German work camp.
The following December, Ernest enlisted in the war leaving behind his wife and two young boys.
He was involved in the battle of Amiens and on 9 August 1918 he was killed on the battle field. He died at the beginning of the last 100 days of the war.
Brian says that three days before Ernest died, he wrote a letter to his wife Ethel.
"… the very last letter that Ernest wrote, sitting on the roadside on his way to the front at Amiens three days before he was shot, it was the most moving war letter I had ever seen. Written to his wife and his children – knowing that things may not go well," he said.
Frank was the only brother who survived the war, and he began the long journey home to Canada when Armistice was declared on 11 November 1918.
He later married and became the father of two children. However, he was always traumatised by his war-time experiences.
Brian says that the discovery of the letters and the Meyer brothers story restored a family link that had been lost for years.
"The [family ties] are much stronger now because of this story we have been able to share.
"Frank's son Art, and his wife Vivi-Anne, they had their 60th wedding anniversary which I went to, and then I went to their 65th which was two years ago. There has been so many happy memories, and I was able to share a lot of my research, and the details of all of the war stories with them."
---
Special thanks to the National Library of Ireland and Bruce Chandler, Archivist at Christ Church Cathedral in Bray