The discovery of a possible archaeological feature near the UNESCO World Heritage Site close to Newgrange in Co Meath has been described as "a very significant find" by the Department of Culture, Heritage and the Gaeltacht.
The recent heatwave has been described as vital in the discovery of a possible henge, or circular enclosure, which may be of archaeological interest at the Brú na Bóinne site.
The henge, which could measure up to 200 metres in diameter, is believed to have been built some 500 years after Newgrange, which dates from 3,000 BC.
The National Monuments Service at the department was made aware of the discovery yesterday evening.
We need your consent to load this rte-player contentWe use rte-player to manage extra content that can set cookies on your device and collect data about your activity. Please review their details and accept them to load the content.Manage Preferences
It said said drone images show the outline of the site in the form of a crop mark.
Such crop marks are differential growth of crops that indicate the presence of buried archaeological features.
The NMS said the use of aerial images to identify archaeological sites through crop marks has been a methodology employed by archaeologists for decades.
However, it said the exceptional dry weather conditions of recent weeks and the increasing deployment of drones for aerial photographic use was producing some remarkable discoveries such as this one
The drone that captured the image belongs to historian and author Anthony Murphy, who has been recording and writing about the Boyne Valley for many years.
He said: "The weather is absolutely critical to the discovery of this monument. I have flown a drone over the Boyne Valley regularly and have never seen this."
He said the bit of moisture left in the soil "lodges in the archaeological features a little bit more than it does in the surrounding soil and the crop that is growing out of the soil is greener in the archaeological features and drier outside of them".
"So when that crop is harvested all surface traces of this monument will vanish and we may not see this monument again for two or three decades depending on when we get another prolonged dry spell like this."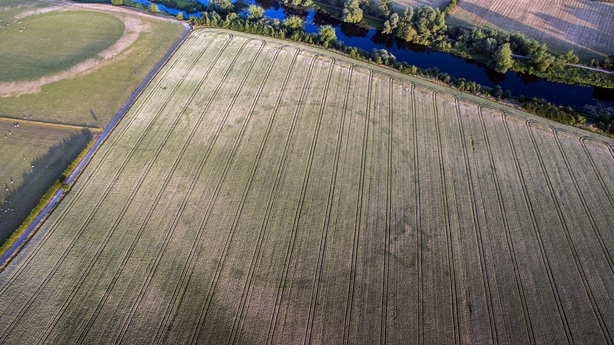 Archaeologist Dr Geraldine Stout, who has written about henges, said: "I believe Newgrange is just the centre of a much larger sacred landscape and I think there was a whole series of facilities built for the pilgrims coming to Newgrange in prehistory.
"Generally we believe these henge monuments were built up to 500 years after the main use of Newgrange and in a lot of cases they actually enclose the area of monuments."
The field where the discovery was made is privately owned and there is no public access at present.