Four Longford men have been ordered to pay compensation of €2,000 to a man who was assaulted after a row over the removal of the Imam at a local mosque.
The case relates to a dispute that broke out in the Longford Community Islamic Centre on 21 August 2015.
Muhammad Abid Hussain, Ahsan Rasool, Ghulan Rasool, Mohammad Tariq, all of Cloverwell, Edgeworthstown, Longford, appeared at a special sitting of Longford District Court.
Judge John Cheatle said that having listened to evidence for two days he was satisfied the four men were guilty of assault and public order offences.
However, he said he would apply the Probation of the Offenders Act to all four if they agreed to pay €500 each to the injured party, Muhammad Asim.
After a short adjournment, the four men agreed to pay the compensation before 21 November.
Judge Cheatle said he would apply the Probation of the Offenders Act when the compensation is paid, but if it is not paid he would sentence all four men to two months imprisonment, with the sentence suspended for ten months.
Two other men, Muhammad Khalid and Quasim Rasool, of Cloverwell, Edgeworthstown, Longford, were convicted of public order offences and fined €80 each.
After the court hearing, there were bitter exchanges between the chairman and director of the mosque, Dr Syed Ali, and friends of the six men who were brought before the court.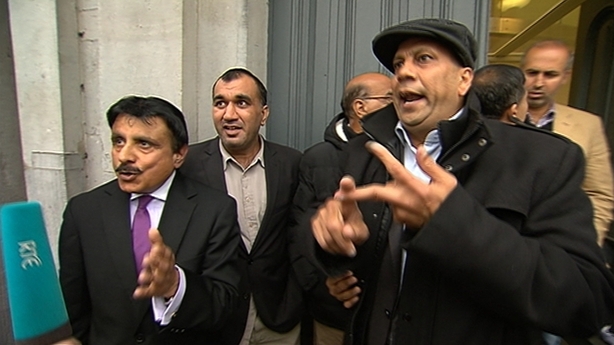 Dr Ali said he rejected suggestions made in court that he was a dictator who wanted the Imam removed.
However, several other members of the Muslim community said he had not given a reason for the decision of the committee to sack the Imam.