The Deaf community has been celebrating Irish Sign Language (ISL) Awareness Week.
This year's celebrations coincide with International Week of Deaf People, which has the theme 'A World Where Deaf People Can Sign Anywhere!'
And one young Irishman is doing just that.
Japhet Ogu, 22, from Ballivor, Co Meath, has over 655,000 followers on social media platform TikTok, where he creates comedy and dance content using ISL.
"Some people might say, 'You're Deaf, you can't do it' but I didn't listen to them, and I became an influencer on TikTok by working hard to achieve my goal," he explained. "My comedy videos are for everyone. I want to make people happy so I can be happy with them."
Japhet, who is currently studying Computer Engineering at TU Dublin in Blanchardstown, says TikTok is a great way of raising awareness about ISL and what it is like to be Deaf as he can engage with his followers and answer questions they have.
His videos on the platform usually contain music or "trending sounds" that are being used by many users across TikTok at any one time, and this involves synching his movements to the music before recording.
"There are a few common questions I get asked by my followers and one is always, 'How can you hear the music through TikTok?' I hold my phone, at full volume, up to my hand, as I can feel it then. I memorise the beat so I can time myself to be in sync with the music and dance to the right beats."
Japhet says he is often recognised on the street. "I'll see them be like, 'Oh there's that guy from TikTok' when I'm out with my friends. It makes me feel famous but in reality, I'm not!" he commented.
Sometimes, however, communicating with them can be challenging.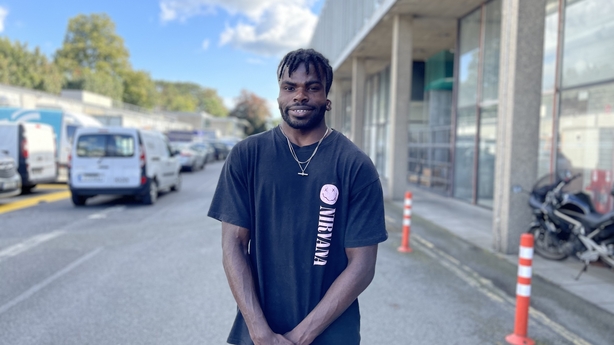 "Even though people know me from TikTok, so know that I'm Deaf, sometimes they will just start to use their voice to talk to me. I feel like they should know that because I'm Deaf, they're supposed to type out what they want to say on their phones or do something with gestures so that I can understand. Otherwise, I have to ask one of my friends that can speak to translate it for me."
This awareness of how to communicate with Deaf people is something Japhet would like to see improve.
"I would like people with hearing to take their time to figure out how to communicate with Deaf people without saying, 'Oh never mind' or being afraid to communicate with them. Deaf people will be like, 'Oh wow, this person is willing to try to talk to me'.
"If they can't use ISL, they can type it on their phone if they want to speak to me, or can do some basic gestures."
The Irish Deaf Society says there are approximately 5,000 people in Ireland for whom ISL is their primary language together with an estimated 40,000 people including family, friends and those working in the Deaf community.
A keen footballer, Japhet communicates with his teammates either through gestures or written notes.
"People make assumptions about me because I'm Deaf. Some coaches didn't think that I'd be very good at football, but I proved them wrong and they still want me to play for them!"
Watch the video above to see Japhet answer some of the most commonly searched for questions online about being Deaf.