RTÉ Director General Kevin Bakhurst has announced a recruitment freeze with immediate effect and said all discretionary spending will be stopped.
In an email to staff, Mr Bakhurst said he "regrets" the move as it will impact on RTÉ's coverage and its investment in equipment and digital plans.
"Given the steep fall in the licence fee and the uncertainty over interim funding, it is the only responsible thing that we can do," he said.
It comes as RTÉ Board members and senior executives appear before the Oireachtas Committee on Media to face further questioning over financial controls at the organisation.
The RTÉ Trade Union Group (TUG) has said that it had no prior knowledge about the recruitment freeze, adding that it is "not acceptable".
In a statement this evening, the TUG said it was "given assurances" by Mr Bakhurst that he would engage with staff and trade unions in relation to efforts to rebuild trust with the public.
"We expect to be advised of and consulted on decisions which significantly impact our members," the statement added.
"There are long-standing vacancies that need to be filled in RTÉ and a total recruitment freeze will have a detrimental impact on workers and their ability to provide quality programmes and content."
Months of controversy
RTÉ has been engulfed in controversy since it admitted in June that it had underdeclared the earnings of its highest earner, Ryan Tubridy, by €345,000 from 2017 to 2022.
Last month, a report by Grant Thornton found that a plausible explanation for the under-declaration of Mr Tubridy's earnings in 2017, 2018 and 2019 by €120,000 was RTÉ's intention to keep the star's declared annual earnings below €500,000.
Two days after the publication of the Grant Thornton report, Mr Bakhurst revealed that Ryan Tubridy would not return to his presenting role in RTÉ.
RTÉ believes that it could lose €21m in TV licence fee revenue by the end of 2023, with renewals down a third.
RTÉ wrote to Minister for Media Catherine Martin earlier this month seeking €34.5m in interim funding, following a previous request for the same amount submitted in May.
In her opening statement to the committee, RTÉ Board Chair Siún Ní Raghallaigh told TDs and Senators that RTÉ is an organisation under immense pressure across a number of fronts.
She said that Mr Bakhurst and his interim leadership team will soon complete a strategic review of the organisation and she expects that the review would "then shape what will be a costed restructuring plan".
She will also say that as part of that plan "hard decisions must be made in order to achieve a fit for purpose public service broadcaster.
"These decisions may not be popular with stakeholders and policy makers, including perhaps this committee," she said.
'Not one red cent'
Earlier, the chair of the Oireachtas Committee on Media said that "not one red cent" should be handed over to RTÉ in additional funding until the national broadcaster answers all the questions put to it.
Speaking on RTÉ's Morning Ireland, committee chair Niamh Smyth said RTÉ must provide full transparency to the Minister for Media and to the public.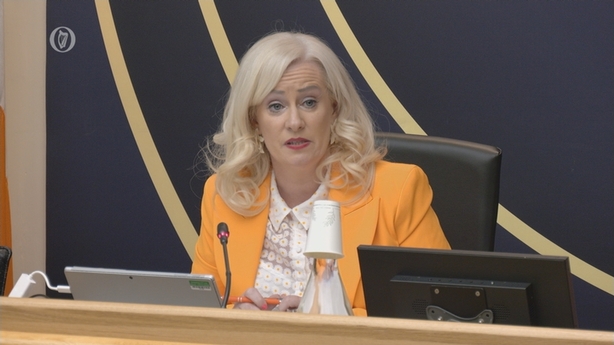 Ms Smyth said it is unacceptable that insight cannot be given into the top 100 earners in RTÉ, adding that the committee is not looking for names, but is asking for clarity or where the balance is among RTÉ employees.
She said: "There are 1,800 staff working in RTÉ and the vast majority of them are not the top 100 earners.
"It does give us a snapshot in time of where the wages and salaries are going and ultimately paints a picture of the tipping balance in terms of the financial circumstance that RTÉ finds itself in."
She said that today's meeting will explore new territory because the committee will hear from the entirety of the RTÉ board.
In relation to suggestions that RTÉ sell the Montrose site in Donnybrook, Ms Smyth said all options have to be on the table.
"When RTÉ has found itself in this position, this is not a new position, but it is a deepening and worsening financial position for RTÉ and I think all options have to be on the table if they're to be realistic about the future of RTÉ," she said.
Documents to TDs and senators
A plethora of documentation was submitted by RTÉ on Monday to the TDs and Senators on the committee, including independent audits provided to the board's Audit and Risk Committee over a decade.
The documentation submitted to the committee revealed that €650,000 in car allowances was paid out last year, but recipients were not required to prove they had a driving licence.
Yesterday, Minister for Finance Michael McGrath warned that RTÉ will have to prove that there has been a significant change in culture before the Cabinet would consider the station's request for tens of millions in additional funding.
Much of that will hinge on a new strategic plan, which is being drafted by the Director General, and is due to be presented to Ms Martin next month.
RTÉ received €15m in interim funding last year following a recommendation by the Future of Media Commission.
RTÉ published its 2022 annual report last week, with Ms Ní Raghallaigh saying that it "was finalised before the crises and turbulence of recent times and before the announcement of a series of organisational changes and reforms in RTÉ".
"As an organisation we cannot shy away from the shortcomings and challenges that have been identified," she said. "Nor will we."