The organisers of the National Ploughing Championships have defended a decision to move to cashless ticketing for this year's event.
In previous years, attendees could purchase their tickets in cash, at the gate, on the day they wanted to attend.
But this year, the National Ploughing Association has been criticised after it insisted that tickets must be pre-purchased online in advance in order to control the numbers of people attending on each day.
It said it can only guarantee entry to the holders of pre-purchased tickets.
The Mayor of Cork County, Cllr Frank O'Flynn, told RTÉ's This Week programme that moving ticket sales online only denies access to a large section of the rural community who do not have a credit card.
He said: "They are used to going to the ploughing championships, and it's often only at a moment's notice that they might decide to go, and if you book a ticket for a Tuesday, you might not be able to go until Wednesday or the Thursday, so this is denying accessibility to people.
"I would call on the powers that be to put in place a gate that would take cash on the day.
"One person said to me: We are the loyal supporters of the ploughing, we go year in, year out, and now we are being denied entry because we haven't got a card, and we're not into that system."
"How do you accommodate those people? Are you denying that section of the community?" he asked.
We need your consent to load this rte-player contentWe use rte-player to manage extra content that can set cookies on your device and collect data about your activity. Please review their details and accept them to load the content.Manage Preferences
The Assistant Managing Director of the National Ploughing Association, Anna Marie McHugh, said the move to cashless ticketing is being driven by a directive from the emergency services.
She said there is a demand from the emergency services to know how many people are attending each day.
"Last year on our middle day we had 35% more people attending than the capacity of Croke Park, 115,000 people.
"We had that number on Wednesday, and immediately afterwards the emergency services said you are going to have to review this, in relation to becoming an all-ticket event.
"What if Tuesday was bad weather, and Thursday was bad weather, would all 300,000 people arrive on Wednesday, which they could if we allow people to pay at the gate," she said.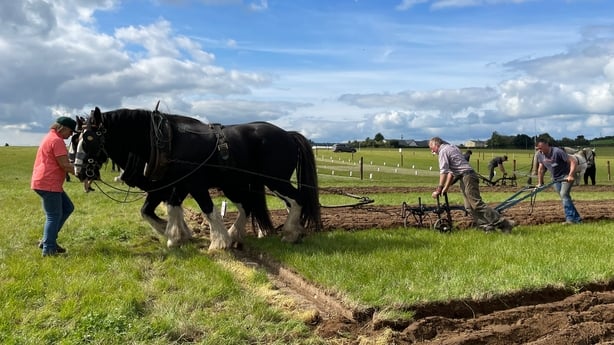 Speaking on This Week, she said people who do not want to buy their tickets with a credit card can send a cheque or postal order and a ticket will be posted back to them.
"We're about rural Ireland, we always have been, and our patrons [are] our priority and they always have been, this is what is driving this," said Ms McHugh.
Asked if people would have the flexibility to switch days if they book online, and their plans change at the last minute, Ms McHugh said this could not be facilitated.
"Because what do we do then if we are at capacity the next day? I'm from a farming background, what we would say is 'don't book until the day before the event, when you know you can go'.
"You can't have an event the size of the National Ploughing Championship that you could have one hundred, two hundred or three hundred thousand people arriving on the one day, it's just not possible anymore.
"Because you would have the risk of crushing, of cars turning around trying to go home, and a risk of safety on the public roads," she said.
Ms McHugh accepted that attendances at the event are heavily influenced by weather on the day, and that the new system of online booking guarantees the National Ploughing Association a certain income regardless of the weather.
However, she said she does not have any option only to put in place a new online system.
"If we had an alternative we would take it, but if 150,000 people show up on a single day, we would be causing serious risk to the general public, and we have to be responsible as the organisers," she added.