More than 20,000 women have run, jogged, walked and wheeled their way through the streets of Dublin for this year's Women's Mini Marathon.
Participants in the race ranged in age from 14 to the eldest entrant, who this year was 93.
Thousands filed past the start line at Fitzwilliam Square, in what is the largest female event of its kind in the world.
The race was won by Nakita Burke from Donegal in a time of 34:27, with Courtney McGuire in second (34:33) and Teresa Doherty in third (34:58).
Shauna Bocquet from Craughwell in Galway won the elite wheelchair category in a time of 26:59.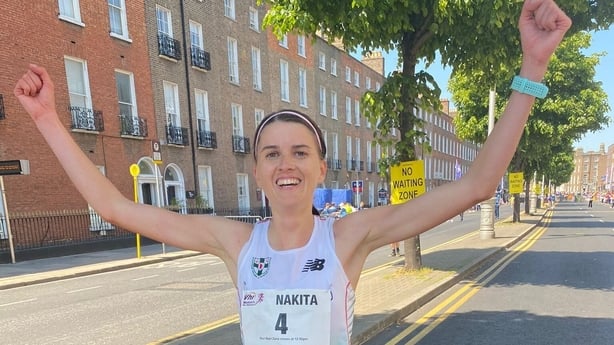 Since its inception in 1983, participants have raised over €226m for a range of charitable causes.
Road closures around the city have now been lifted.
Mini Marathon was "great motivation" for cancer survivor Sorcha
Just a few years ago, 24-year-old Sorcha Ní Riain from Tipperary could not have imagined she would be completing the Mini Marathon in less than one hour.
She only took up running last October to rebuild her fitness following chemotherapy.
"I was diagnosed with Hodgkin's lymphoma when I was 20 and I really never got back to that level of fitness before," she explained.
She said she had never run in her life before her diagnosis.
"I'd never done a kilometre before October. I started running and I feel so much better now. I'm back to my usual self," she told RTÉ News.
Today, after her 10 kilometres, Sorcha said she got on great, running the mini marathon in close to 54 minutes.
"It was great, the sun kind of energised us the whole way through," she said.
"The supporters, even at the finish line, you think you've nothing left in you and when you hear all the supporters, it just drove us on and we ended up sprinting to the finish line."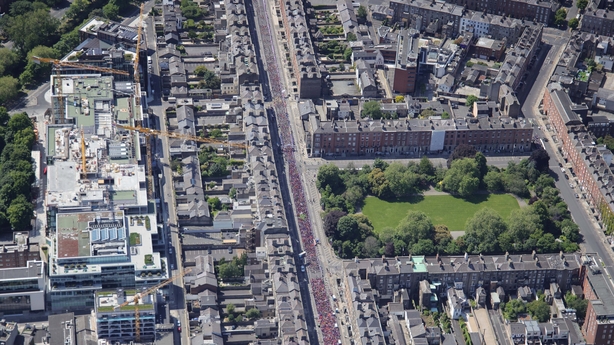 Sorcha said that when she had cancer, she never thought she would be able to achieve this.
"If people are going through any type of adversity or illness, you can recover and you can push yourself and think that you'll get better, so it is a great motivation.
"If you want something you'll work towards it, so yeah, I feel very proud of myself," she said.
She will celebrate tonight with her mum Marion, who also took part for the first time today.
Ann O'Donnell, who is approaching her 77th birthday, has been running the Mini Marathon every year since 2000 to raise money for Harold's Cross Hospice.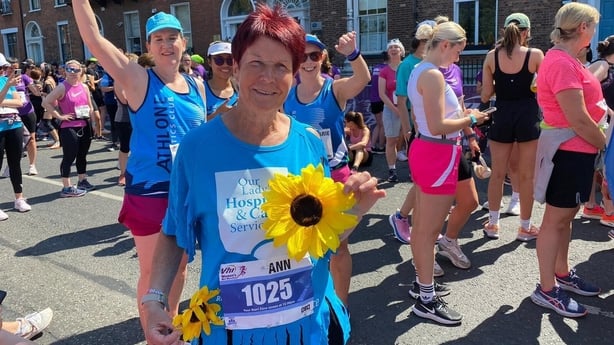 "It's a bit of excitement," she said. "The atmosphere is brilliant."
"At the moment I've raised €21,400 - brilliant work and I'll keep it up."
She has raised €1,100 this year alone and hopes to get even more support this evening: "Hopefully I'll finish in the pub tonight, I have my [sponsorship] card and then I'll get another few."
74-year-old Mary Lennon from Castleknock was among 15 participants today who have taken part in every Mini Marathon to date since it began in 1983.
Her top tip for running in the heat was to wear plenty of sunscreen.
Aileen Byrne from County Cavan ran today's Mini Marathon for Féileacáin in memory of her baby daughter.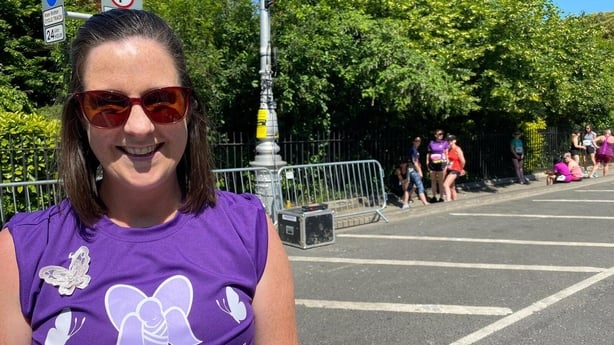 The charity provides support to anyone affected by the loss of a baby before or after pregnancy.
She was also raising money for the the midwife-led unit at the maternity hospital in Cavan.
"Last year, unfortunately, I lost a child early and both Féileacáin and the MLU were phenomenal and gave us a lot of support," she explained.
She said it was her first time to run the Mini Marathon along with her sister and other family and friends.
More than 12,500 take part in Cork City Marathon
Meanwhile, more than 12,500 participants competed in today's Cork City Marathon.
The race was won by Pawel Kosek from Poland in a time of 2:28:24, with Gary O'Hanlon of Clonliffe Harriers AC in second.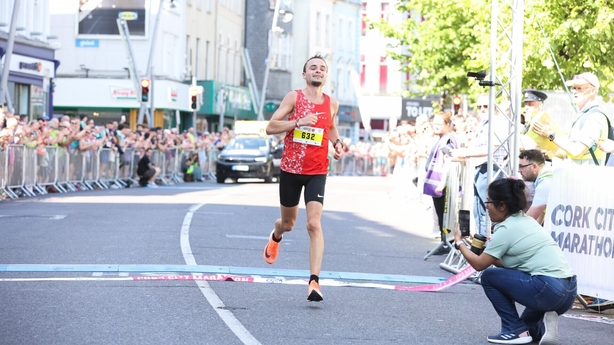 Georgie Bruinvels from the UK was the first female to cross the line in a time of 2:49:59.
As well as the full marathon, there was also a half marathon and an inaugural 10km race.