Irish artist Graham Knuttel has died aged 69.
A post on the artist's official Facebook page said he passed away peacefully on Saturday surrounded by his family.
Born in 1954, Mr Knuttel was initially known for his large sculptures, but later turned to painting.
His distinctive work is held in public and private collections worldwide and collectors include Robert De Niro, Sylvester Stallone as well as many institutions.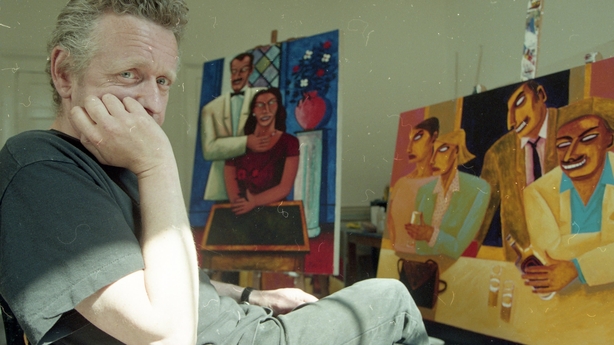 The family said: "It is with great sadness that we write to let you know that Graham passed away peacefully on Saturday 27th of May, 2023, surrounded by his family.
"You will know that he engaged in life as he engaged in his art - that is to say, boldly and without reserve.
"He greatly valued the cut and thrust of debate and the vivid colours that satire and dark humour deliver.
"We know that he is grateful to you all for having made the connection."
President Michael D Higgins has sent his condolences to Mr Knuttel's family and friends, saying that throughout his life, the artist made a valuable contribution to Ireland's artistic community.
Arts Minister Catherine Martin has also paid tribute to Graham Knuttel, saying he made an immense contribution to Ireland's artistic landscape. She said the bold colours and themes in his work were both striking and thought provoking and contributed to his lasting international legacy.
Mr Knuttel attended Dún Laoghaire College of Art and Design where he gained a diploma in fine art painting and sculpture.
GRAHAM KNUTTEL.
Many memories of you from Dun Laoghaire School of Art on Cumberland Street in the late 1970's. Your energy, your laughter, your talent. You helped me make my very first film for which I've always been so grateful. Fly high.@grahamknuttel pic.twitter.com/e63763alDr

— Aisling Walsh (@WalshAisling) May 30, 2023
He always had an interest in figurative work and the story of the human condition.
His distinctive figures and bold use of colour brought him international acclaim and he numbered Hollywood stars among those who collected his work.
I spent countless hours as a broke student staring longingly at Graham Knuttel paintings, wishing I could one day afford one. Commissioning him to paint me and Louise is the single maddest, most pretentious Celtic Tiger thing I ever did, and I don't regret it for a second. pic.twitter.com/2Y6FTXPdje

— Aonghus Óg McAnally (@AonghusOg) May 30, 2023
He told RTÉ News in 1988 the bright colours and the sense of drama in his work appealed to those with a cinematic frame of mind.
He also described his paintings as theatrical, saying they tell a story, often about conflicts between people, and that he used body language to express that story.
Graham Knuttel was a successful artist, as many obituaries will testify in the coming days. But he was also a most loyal friend – and great company, day or night. We are proud to have two pieces of his work in our collection. RIP. https://t.co/MzRlSKSvC3

— The Little Museum of Dublin (@littlemuseumdub) May 30, 2023
In more recent years, he also collaborated with Tipperary Crystal on a range of homeware and gifts.
---
From the RTÉ Archives
Irish artist a hit in Hollywood