In Merrion Square in Dublin city centre, Edizemi Onilenla is expecting a lot of customers lining up to buy from the Mama Shee food truck this afternoon.
It is Africa Day and that may draw some new faces keen to try her Nigerian dishes, but the creator and face of Mama Shee believes that most of her customers today are likely to be regulars.
"In Merrion Square, I see people who come regularly to buy Jollof Rice, buy fried rice, buy yam porridge, they go for plantain," Ms Onilenla said.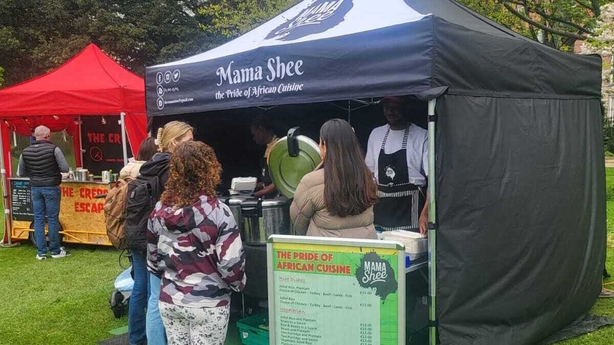 But this is a relatively recent phenomenon.
Originally from Nigeria, she has lived in Ireland for more than two decades.
"Over the years I observed that we didn't have anything to represent Africa in the Irish stores, and I became very passionate about it," she explained, "I just want to have our food on the shelf."
So, in 2018 she set up Mama Shee and now sells ready meals in a select number of SuperValu stores in Dublin and Kildare, from some African stores and from her own website, as well operating a weekly food stall on Merrion Square with a new venture on Moore Street under way.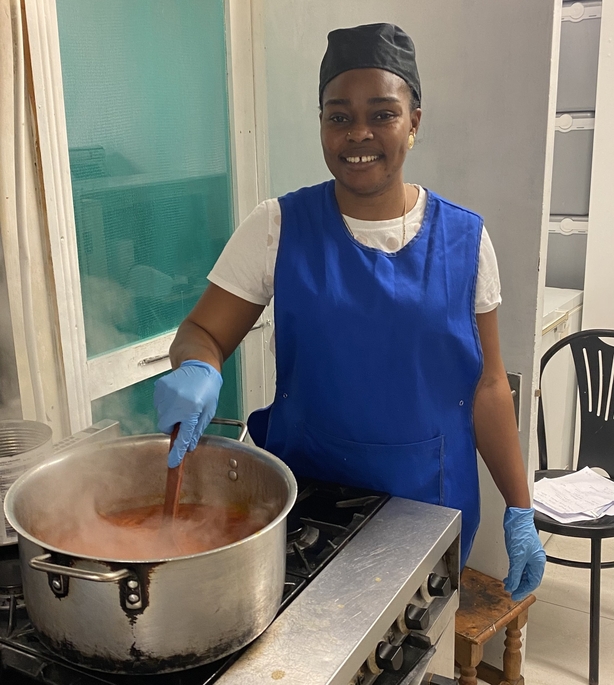 In her kitchen in Tallaght, as she prepared dishes of yam porridge, she was enthusiastic about the journey so far.
"It's been good, feedback has been great, some are even addicted to the food," she laughed.
In the last two years, viral videos on TikTok have also helped to pique wider Irish interest in West African cuisine.
"The jollof rice and the egusi soup, they're the very popular dishes as they went on TikTok," chef and restaurateur Anu Rosiji said.
"Everybody was dying to try egusi soup and egusi soup is one of my favourites as well," she said.
Also specialising in Nigerian cuisine, Ms Rosiji said that her restaurant, Anu's Kitchen, which is also in Tallaght, caters for everything from traditional weddings in its function room to take-away deliveries via Uber Eats.
When she started this business nine years ago, she said that she was aware that everything from American to Asian food was widely available to order online, while West African offerings were something "people didn't really see".
A glance at online delivery services today showed that this is gradually changing in Dublin at least with food from a handful of West African restaurants now available.
As she chopped peppers Ms Rosiji chatted about similarities between Nigerian cuisine and those from other West African countries, such as variations on jollof rice, but there is clearly some healthy here competition too.
"Nigerian jollof is the most popular one," she declared before acknowledging that not everyone would agree, "you see there's this thing between the Nigerian jollof and the Ghanian jollof".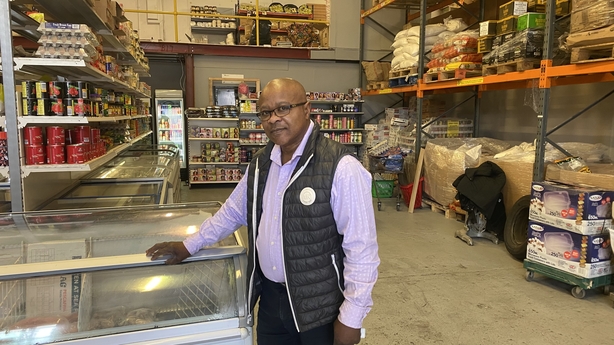 Of course, to make either you are going to need the right ingredients.
When it comes to rice, TobbyFoods in Finglas, has 17 different types to choose from.
"Before I opened a shop, I lived in Finglas and if I want to buy any African ingredients, I have to travel so far to the city centre," Paul Muyiwa Babarinde explained.
A trained chef, Paul decided to open his first African store in Clondalkin 20 years ago, before moving to this larger premises last year.
His store is stocked to the rafters with dried goods, while freezers line the centre full of frozen meat and vegetables and fresh bread and fruit and vegetables are found to the front of the shop.
He explained how he tries to cater to as wide an audience as possible.
For example, in one aisle there are a few varieties of pap, a mainstay of southern African cuisine, while on the opposite side of the shop there is a freezer dedicated to his Congolese clientele with ingredients like cassava leaf, which is used to make Pondu.
Mr Babarinde said he is also seeing a growing number of new customers of different ethnicities coming through the door.
"What I see is that everybody wants to do something different, have a different taste," he said.