Defence Forces Chief of Staff Lieutenant General Seán Clancy has said that the behaviour detailed in the Independent Review Group's report into gender-based violence, harassment and bullying, still exists in the force today.
The review, which was published yesterday after 15 months of investigation, recommended a full statutory inquiry into the controversy.
Interviewees told investigators of bullying, mobbing and sexual harassment within the Defence Forces, which caused long-term pain and injury.
A total of 88% of female respondents surveyed for the review reported experiencing one or more forms of sexual harassment.
The report found some members of management "crossed the line" by undermining individuals' human dignity through an absence of respect.
Speaking this afternoon, Lieutenant General Clancy said it was not just a historical issue in the organisation, adding "it is an issue that exists today".
"It is very clear that there has been bullying, harassment, misogynistic behaviours, sexual harassment, criminal activity in our organisation, and that has come from a culture that has allowed that to happen," Lieutenant General Clancy said.
While he said there were "good men and women at all levels" of the Defence Forces, he said there were areas in the organisation "where the people that have perpetrated some of these inappropriate behaviours, harassments, bullyings, that still exist".
He said that he was "ashamed", but that good men and good women wanted to see change in the organisation, and that those "who resist it" or who "act in an inappropriate manner" will be held to account.
"We now have to tackle the change process," the Defence Forces Chief of Staff said.
Lieutenant General Clancy said that he was "fully committed to the change that is outlined and required".
He said a statutory inquiry "was necessary", and welcomed other measures outlined by the Tánaiste yesterday, in particular the independent complaints procedure, the expert groups to be brought in to support staff, the independent oversight group, and the proposed legislative changes.
He said bringing in two civilian experts in strategic HR and as head of transformation, alongside other measures, "will help bring about fundamental change".
The Defence Forces had not "stood still" in relation to this issue in the past year, he said, adding that he had engaged in "truth to power" sessions with men and women from the force.
"We have taken measures, we have held people to account, but I am looking forward to the legislative changes," he said, which he said would give him powers that he currently did not have.
We need your consent to load this rte-player contentWe use rte-player to manage extra content that can set cookies on your device and collect data about your activity. Please review their details and accept them to load the content.Manage Preferences
Earlier, the Chief Executive of the Dublin Rape Crisis Centre said she was "shocked" that the level of abuse against women in the Defence Forces continued for so long, but was "not surprised".
Speaking on RTÉ's Morning Ireland, Noeline Blackwell said the report was "really straight talking" and that "every word is understandable".
"It's 100 pages long and every single chapter needs careful reading to show the level at which they again-and-again say that people serving in our Defence Forces, particularly women, were serving in workplaces that were totally unacceptable and unsafe," Ms Blackwell said.
"We had people who were giving sterling service for this State at home and abroad and who were working in workplaces that were systematically unsafe."
She said the report looked at systemic aspects of the Defence Forces and identified not just that there was a problem, but that it needed addressing at several levels.
"Not only are they talking about a statutory inquiry, which has been kind of on the cards for the past year, but a complaint system, which was devised in the 1950s and may have had tweaks, but it has no place in a modern-day life," Ms Blackwell said.
In the Dáil today, Labour leader Ivana Bacik said the report revealed a "toxic culture" in the Defence Forces and includes "shocking findings".
She paid tribute to the Women of Honour Group, made up of former members of the Defence Forces seeking a statutory inquiry into sexual abuse and bullying, and RTÉ journalist Katie Hannon.
Taoiseach Leo Varadkar agreed that the report was "shocking", saying bullying and harassment had never been so starkly outlined.
He said it was important for the Government to act speedily but it was also imperative to "get it right" when devising the terms of reference for the statutory inquiry, not wanting to commit to a timeline.
He said Tánaiste and Minister for Defence Micheál Martin would be engaging with relevant groups, such as Women of Honour.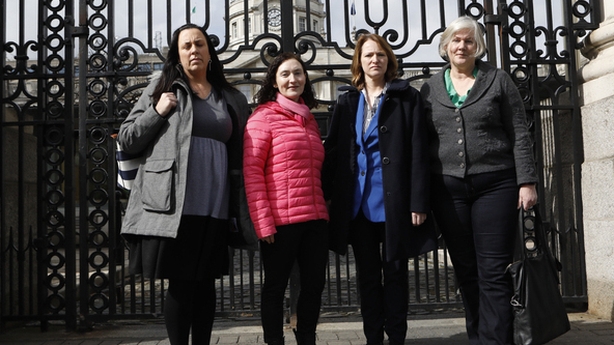 Women of Honour
Retired Army Captain and member of the Women of Honour Group Diane Byrne described the report as "very upsetting".
Speaking on the same programme, Ms Byrne said the Women of Honour did not engage with the Independent Review Group.
"We had already made it very clear that we did not feel that this was sufficient for what was needed, so the entire contents of this report came outside of the Women of Honour from other people," she said.
"That's a lot of people."
Ms Byrne said that now there needs to be a collaborative approach with victims and any statutory inquiry "has to have a victim-led approach to get a good understanding".
"This needs to be a full public statutory inquiry because we need an all-encompassing investigation," she said.
"If you look at the starkness of the findings in this report, and you bear in mind how narrow the terms of reference going into this were, and that all of the information in this IRG report came from voluntary information provided by victims and not compelled information where we can get a detailed look at everything, there's so much more out there."
She said the message to Minister Martin will be "can we finally get down to work?".
"We need to start discussing the terms of reference, what they're going to involve," she said.
"There's still a number of questions that we have to ask around the recommendations that are in there, but our concentration at this point is the full public statutory inquiry.
"There is a chance now to bring in some real change so that the men and women of this country, the younger people coming up will get that sense of pride.
"And they will have a safe organisation within which to work because it is a wonderful place in a lot of ways and what it stands for is fantastic.
"But it's just such a toxic culture in there at this stage that once that is changed, really changed, absolutely I would encourage people to go in."
A 'gut punch'
The General Secretary of the Representative Association of Commissioned Officers has said that the organisation needs to have a seat at the table of any statutory inquiry or external oversight body in order to change the culture of the Defence Forces.
Lieutenant Colonel Conor King said that he did not believe the Defence Forces were equipped to deal with matters of sexual assault and "nor should it be" and that if anyone came forward to him today, he would recommend going to gardaí.
Giving his reaction to yesterday's report, he told RTÉ's News at One that it was a "gut punch", as well as shocking and extremely stark.
"As an association we are saddened to read the lived experience of women and men who have been hugely mistreated throughout the decades and currently," Lt Col King said.
He added that they commend the Women of Honour group and anyone who stepped forward.
"What we do now is how we will be judged in the future," he added.
Additional reporting: Paul Cunningham